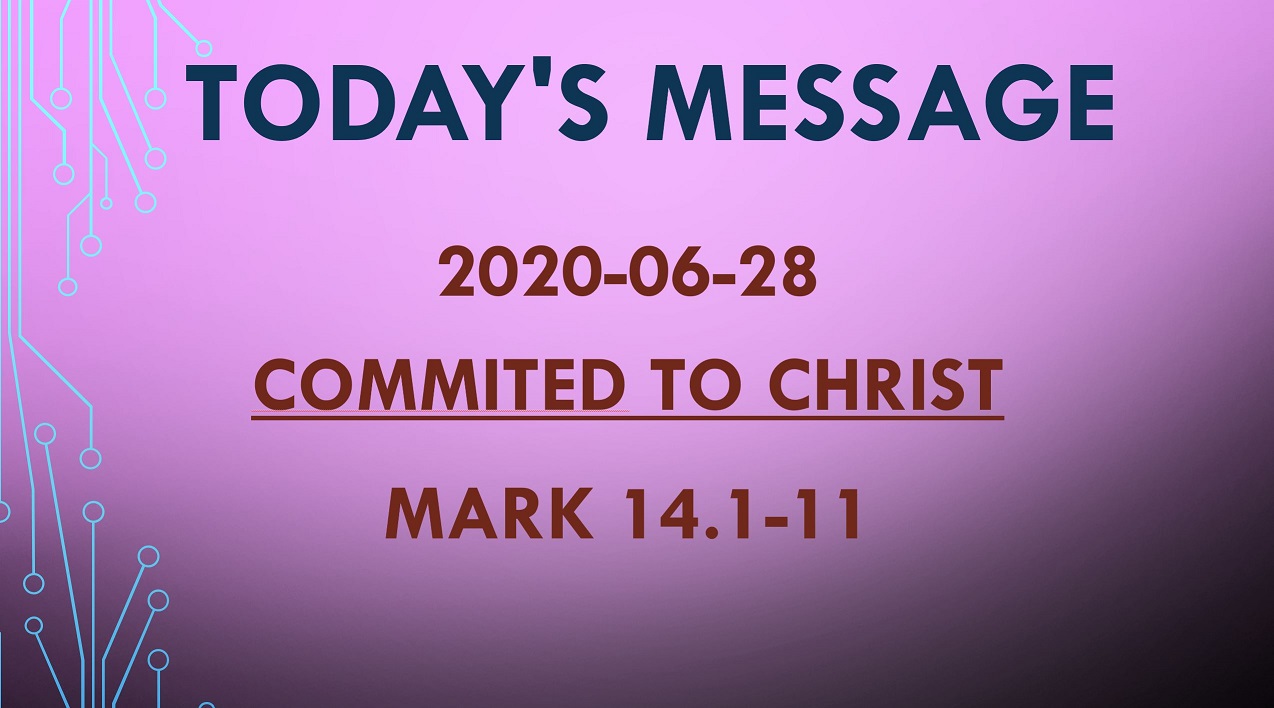 2020-06-28 – Mark 14.1-11 – Committed to Christ
Bible Text: Mark 14:1-11 | Preacher: Pastor Jerry Higdon | Series: Mark | 2020-06-28 – Mark 14.1-11 – Committed to Christ
Greetings everyone. I am Pastor Jerry from the First Baptist church Orion Illinois. It is so nice to be able to spend some time with you all in fellowship with the Lord. Thank you and God bless you for being with us today.
For an opening illustration this morning, I read that there was a factory in northern France where lavender, for use in perfumes was produced. Each evening as the workers would head for home and walk the streets the little town, the whole village would be filled with the sweet aroma that had clung to the workers.
That's how it should be with us. In 2 Cor. 2:14 Paul wrote "thanks be to God, who in Christ always leads us in triumphal procession, and through us spreads the fragrance of the knowledge of him everywhere. For we are the aroma of Christ to God among those who are being saved and among those who are perishing, to one a fragrance from death to death, to the other a fragrance from life to life.
Show Aftershave (Old Spice, Saint Laurent, MontBlanc) Volunteer Josh
Please turn in your Bibles to Mark 14:1 (page 902) of God's Inspired, Infallible and Living Word. But let us first start with Prayer.
We have been going through this book of Mark over the past few months. Mark was an understudy of both Paul and Peter while they were going about starting the first churches after Jesus had ascended into heaven. Being the first and the smallest of the four Gospel books, Mark's account was believed to be a reference for both Matthew and Luke's Gospels. In that, they validated what Mark had wrote and we believe the Gospels were inspired by Jesus who John says was the word who became flesh. Starting today in chapter 14, Jesus is preparing the disciples for his crucificition. We must keep in mind while reading today's passages that Jesus knew He was going to be crucified shortly and He was preparing His disciples for that most impactful and critical event.
The title of today's message is "Committed to Christ". Please read with me now starting in Chapter 14, verse 1:
1It was two days before the Passover and the Festival of Unleavened Bread. The chief priests and the scribes were looking for a cunning way to arrest Jesus and kill him. 2 "Not during the festival," they said, "so that there won't be a riot among the people."
First we must keep in mind that right before this event in scripture, Jesus had spent a few days in Jerusalem and visited the temple, where He first cleared out the "den of thieves", and He told the Jewish leaders that God was angered at how they were making a mockery of Him and their twisted religious practices. The priests and scribes were wholly insulted and now they wanted Jesus dead. This all took place right before the Passover festival when the Jewish people celebrated their being spared from death while they were still slaves in Egypt some 1300 years earlier. That Passover festival and the Unleavened Bread which also was a result of the Exodus from Egypt were and still are big celebrations and most meaningful to the Jewish nation as you might imagine. So the leaders, had to be cautious as they didn't want the murder of Jesus to put a damper on the festivals.
I have a 1-min video to show you that depicts some of the activities of last year's Passover festival and the festival of unleavened bread.. It is good for us to understand some of the background of our Christian heritage. I hope you can see this was a major event for the Jewish people.
Verse 3 continues: 3 While he was in Bethany at the house of Simon the leper, as he was reclining at the table, a woman came with an alabaster jar of very expensive perfume of pure nard. She broke the jar and poured it on his head.
Looking at these last passages, first we see that they were in Bethany, which is about two miles from Jerusalem. He was at the house of Simon the leper. We might presume Simon the leper might have been healed by Jesus and thus it is reasonable to think that Jesus was the honored guest for His miraculous healing. There are a few different accounts of people Jesus had healed from leprosy in scripture. The early Israelites believed that illness was a punishment for sin. So not only was Jesus crossing the line by subjecting the disciples to a disease, but they were also probably looked down upon for associating with sinners yet again.
This account is also recorded in Matthew 26 and John chapter 12. In each one of these accounts there is a little more details to be rendered. In John's description it says the woman was Jesus's good friend Mary who put perfume on Jesus. Mary was the sister of Lazarus who Jesus raised from the grave. You might understand why she wanted to do this for Jesus. It also says that "she poured it on Jesus's feet and wiped his feet with her hair. And the house was filled with the fragrance of the perfume".
In Matthew it says she had "an alabaster jar of very expensive perfume, which she poured on his head as he was reclining at the table". So in this we realize Jesus was covered from His head to His toe in perfume. (just like Josh) Yuk, lol.
You might ask, why Mary would do this? I might suggest that she really believed Jesus when He told them just previously that He was going to be murdered, thus she intended to prepare Jesus for that solemn event. She loved Jesus, so she let go of all her reservations and found a way to show that love in this. Question: What wouldn't you do for someone you loved dearly that you knew was going to die the next day? Another interesting thing for us to ponder: When Jesus first came into the world, the three Magi gave gifts to the new born baby Jesus of Gold, frankincense and myrrh. Frankincense and myrrh were generally used as incense and perfume. So Jesus came into the world with perfume and was leaving this world with perfume. Our verse 4 now continues:
4 But some were expressing indignation to one another: "Why has this perfume been wasted? 5 For this perfume might have been sold for more than three hundred denarii and given to the poor." And they began to scold her.
John's version of this incident says that the one that was "expressing indignation" was Judas Iscariot. You might recall that Judas Iscariot was the designated treasurer for the Twelve Apostles. And as we will see int the verses ahead, he is also the one who betrays Jesus. Some think the fact that Mary "waisted" the expensive perfume is what put Judas over the edge. Others think that this event made Judas realize that Jesus wasn't going to be the "money maker" that he thought, so he decided at this point to betray Jesus.
Our verses here say this perfume was worth 300 denarii, or 300 days labor worth of pay. That is some expensive stuff! Anyone here have that kind of perfume at home? I have seen it before, but I can't imagine anyone I know purchasing it.
If this was anything like the perfume I once purchased from the pyramids in Egypt, then it was good strong-stuff. That just a drop of it on your skin would get into your pores and you could smell it for weeks. In contrast I was told that all the perfume we get here in our stores is thinned out many times over with alcohol. Coincidently I got this little alabaster jar from Chiro back in 1985. I was told it was very old. Maybe it was something like the jar Mary used to anoint Jesus back then, then subsequently was ridiculed about by Judas.   Verse 6:
6 Jesus replied, "Leave her alone. Why are you bothering her? She has done a noble thing for me. 7 You always have the poor with you, and you can do what is good for them whenever you want, but you do not always have me. 8 She has done what she could; she has anointed my body in advance for burial. 9 Truly I tell you, wherever the gospel is proclaimed in the whole world, what she has done will also be told in memory of her."
So again, Judas and some of the others harshly criticized Mary and Jesus for this show of compassion and endearment. Criticism is a dangerous and delicate instrument. It must be employed with care and caution, and we must be wise about employing its use. Criticism is like a scalpel, it can cut to heal or it can cut to harm. Criticism frequently tells more about the critic than it does about the person who is being criticized. In the case here of Judas, this criticism exposes his motives. Jesus knows what Judas is all about. He also knows what Mary's motives are. Mary probably senses Jesus is under much stress. We can see written in just a few verses ahead that Jesus while in prayer in the garden asks, 'Father, if you are willing, take this cup from me; yet not my will, but yours be done.' Then it says 'An angel from heaven appeared to him and strengthened him. And being in anguish, he prayed more earnestly, and his sweat was like drops of blood falling to the ground." (Luke 22:39-44). So Jesus knew He was about to go through some incredibly stressful circumstances and He appreciated what Mary was attempting to do, and thus He rightfully defended her. Verse 10 continues:
10 Then Judas Iscariot, one of the Twelve, went to the chief priests to betray Jesus to them. 11 And when they heard this, they were glad and promised to give him money. So he started looking for a good opportunity to betray him.
In these few verses today we can see clearly that Mark has given us the prelude of what is referred to as Jesus's Passion. The conspiracy and treachery of Judas's actions will take Jesus eventually to a criminal's crucificition and death. It is so sad a circumstance to witness this in scripture, and if you are a true Christ follower, then it should grieve you dearly to see what lays ahead for this man we call our Messiah, our Savior and Lord.
The key take-away for us today I see in these verses, are related to our commitment to Jesus. Because of what Mary demonstrated so well, her uncommon love and sacrifice, makes me question myself, am I as Committed to Christ as much as I should be? Am I willing and able to demonstrate that kind of uncommon love and endearment to God and His people and His purpose as I should be about doing?
Each of us will have to answer that question one day. Now for the Christian, I know as Paul wrote in Romans 8:1 there will be "no condemnation for those who are in Christ Jesus". However, I want to be able to answer well if and when Father God asks me "What did you do with My Son Jesus?" Like the parable of the talents, did you invest well His gift of grace and salvation, or did you burry or squander that most valuable treasure? Instead I desire God to say to me one day, "Well Done, Good and Faithful Servant!"
God intends that we should be living our lives in such a way that we even Magnify His most precious gift. So that others will see His love and light in our character. So that others will see the uncommon care and compassion we have for fellow man, and that might cause them to ask about what makes us different.
Jesus defended Mary for what she did that day in Bethany. Likewise, Jesus will defend you too when you are doing His will and bringing His light into this dark world. Now before us is a challange and opportunity like we have perhaps never had before. Stand up dear Christian and make a positive difference for Christ, and in doing so, like Mary He will not forget your name when you stand before His Father in Heaven. Let the beautiful aroma of Jesus Christ on you be so strong that that it brings "death to death and life to life" to those that God puts in your path.
Please stand with me now and let us pray with one another to that end. [Prayer]
Amazing Grace
Next week we will dig deep into the event and practice we refer to as the Lord's Supper. You wont want to miss that as it means so much to the Born Again believing and practicing Christ follower.
Thank you for giving me this opportunity to speak with you today. May the God of Peace, bless you all today. Let us now close with prayer.