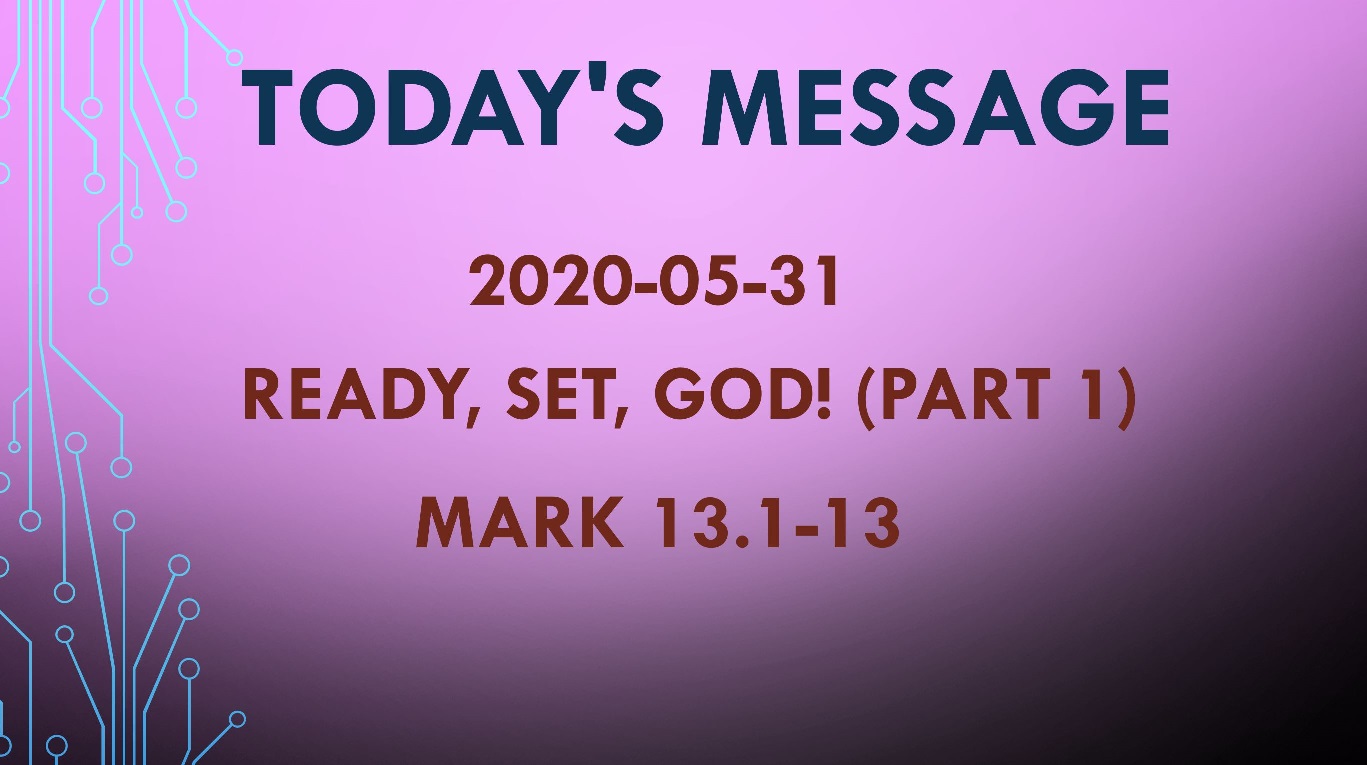 2020-05-31 – Mark 13.1-13 – Ready, Set, God! (part 1)
Bible Text: Mark 13:1-13 | Preacher: Pastor Jerry Higdon | Series: Mark | 2020-05-31 – Mark 13.1-13 – Ready, Set, God! (part 1)
Greetings everyone. It is so nice to be able to spend some time with you all in fellowship with the Lord. Thank you and God bless you for being with us today.
I am Pastor Jerry from the First Baptist church Orion Illinois. Today is Pentecost Sunday. What is Pentecost you might ask, well then let me tell you. The term Pentecost actually comes from a Greek word meaning "fiftieth". It refers to the festival celebrated in Old Testament times by the Jewish people on the fiftieth day following Passover.
For Christians, the day of Pentecost also reminds us of that day after Jesus had already ascended into heaven, when the believers were filled with the Holy Spirit. That Pentecost event marked the beginning of the church as we know it. This church is considered the bride of Christ, and He has entrusted us to be part of it. God's Holy Spirit now guides us and protects us. So the day of Pentecost is most worthy for us to recognize and appreciate. So again, Happy Pentecost Sunday everyone.
Now today, we are going to hear the first part of a message called Ready, Set, God! It is actually a three part message because it deals with 1) the time of Jesus, 2) the time of the destruction of Israel in AD 70 until today, and 3) the last part has to do with the second coming of Christ to the world. Ready, Set, God!
Please turn in your Bibles to Mark 13.1 of God's Inspired, Infallible and Living Word. But let us first start with Prayer.
Some of you might know that during our yearly Bible Camp, I am in charge of the Sports & Recreation. Most every year I present events where I get all the children lined up to prepare in some sort of athletic competition. And invariably, I would have them all lined up and I would pump them up for the challenge ahead. Then I would start out with Ready! Set! And then yell STOP! Then it is my twisted joy to see the children almost fall over themselves trying to recover. But sometimes life is like that too, isn't it. When you are ready and you are set, but then something like COVID19 comes along and causes you to get stopped in your tracks. We are going to see some of those same dynamics in our messages series over the next few weeks. Where Jesus will paint a picture that is filled with both much challenge and much hope.
If you have followed the last few weeks of sermons, you would know that at this point in the book of Mark, Jesus had been spending a considerable amount of time in the temple, and He was making a mockery of how the temple and Jewish leaders were not following the law of Moses or even the will of God, and that they were in fact taking advantage of the people, and God was not pleased with them. Jesus was calling them out, and they now wanted to have Jesus killed. That takes us now to our first verses today. I am going to first read our text in it's entirety, then I will come back and break it down a little. Starting at verse 1 it says:
1As [Jesus] was going out of the temple, one of his disciples said to him, "Teacher, look! What massive stones! What impressive buildings!" 2 Jesus said to him, "Do you see these great buildings? Not one stone will be left upon another—all will be thrown down."
3 While he was sitting on the Mount of Olives across from the temple, Peter, James, John, and Andrew asked him privately, 4 "Tell us, when will these things happen? And what will be the sign when all these things are about to be accomplished?"
5 Jesus told them, "Watch out that no one deceives you. 6 Many will come in my name, saying, 'I am he,' and they will deceive many. 7 When you hear of wars and rumors of wars, don't be alarmed; these things must take place, but it is not yet the end. 8 For nation will rise up against nation, and kingdom against kingdom. There will be earthquakes in various places, and famines. These are the beginning of birth pains.
9 "But you, be on your guard! They will hand you over to local courts, and you will be flogged in the synagogues. You will stand before governors and kings because of me, as a witness to them. 10 And it is necessary that the gospel be preached to all nations. 11 So when they arrest you and hand you over, don't worry beforehand what you will say, but say whatever is given to you at that time,
for it isn't you speaking, but the Holy Spirit.
12 "Brother will betray brother to death, and a father his child. Children will rise up against parents and have them put to death. 13 You will be hated by everyone because of my name, but the one who endures to the end will be saved.
First thing I wish you to understand that in these messages Jesus will be talking about different seasons or times in our Christian world, leading up to finally Heaven and Earth restored for all eternity.  [Show Slide]
I have a graphic to illustrate the different times according to New Testament scripture. The first of these times we will discuss is when the Messiah Suffered.
The time slice that follows, I have labeled as Good News or the Time of Grace which is what we are now living in. And then the other times mentioned are the time of the Millennium Reign, where Jesus is King, and then the Time of Eternity when we will have a new Heaven and a new Earth and it will go on forever.
But in our scripture verses today, Jesus is mostly talking about the shortest time on this timeline that follows the time of Good News and before the Millennium Reign, called the Great Tribulation. According to Jesus himself, it will be the the absolute worst of times for all humanity. Even today in our world, the Great Tribulation receives the most exaggerated fanfare. So many movies are built on the premise of what happens during the Great Tribulation. It is only a seven-year period, and Jesus tells us in these verses that there will be signs that occur before the Tribulation begins. So in our verses today and throughout this short series we will read where Jesus talks about the persecution of the disciples and then he will switch over to the Great Tribulation. So let us now break it down a little bit.
The first thing Jesus tells them and us in these verses is about the Holy Temple. He said "Not one stone will be left upon another", and that actually took place some thirty-years later when Jerusalem is decimated. I visited that Holy Temple last year and only a remnant of it remains. If you could imagine out in the middle of the desert in Jesus's day a massive gold laden building that was about 20 stories tall. I bet was just beautiful. That gold covering it had was probably why it was eventually dismantled. People wanted the gold for themselves.
The disciples asked Jesus when this would happen, and although Jesus didn't say a particular date and time, He said, Many deceivers will come, there will be wars and rumors of wars, and nation will rise up against nation, and kingdom against kingdom. There will be earthquakes in various places, and famines. And these are just the beginning of birth pains of what was yet to come.
I am sure you would agree that we now see these things happening in ever more frequency even during our lifetime. Jesus said that our planet is groaning in anticipation of being repaired or made new. As sad as all this is to witness, when they happen we shouldn't be surprised. Jesus refers to them as birth pains. This is actually a beautiful metaphor. Just like how the idea of having a baby is a beautiful thing, but first are the pains of childbirth. We also have a beautiful Heaven on Earth paradise to look forward to, but first comes the times of pain.
And part of that pain comes from persecution. Jesus addresses that, He says we should expect it, for persecution "is necessary that the gospel be preached to all nations". That is the Great Commission that Jesus gave us before He ascended into heaven. So now, if you a Christ follower, our commanding charge by Jesus is to share the Gospel so that others might be saved before the Great Tribulation. Every day that we live after accepting Christ as our savior should be seasoned with that charge. The time we are now in is all about sharing that Good News to all the nations. But we aren't alone in this as Jesus tells us here, when we share the Gospel, and when we are being persecuted because of our faith, we will speak with Holy Spirit authority. Jesus said here in verse 11"it isn't you speaking, but the Holy Spirit. The Holy Spirit is our Counselor and our connection to our Heavenly Father. And He loves you so. He will never leave you or forsake you.
Finally brothers and sisters, Jesus calls for us to endure. Endure the hardship, endure the persecution, endure the sufferings, endure the chaos and calamity. Endure and hold fast to your faith in Jesus Christ. That is God's will for you and I today. All around us are challenges. Challenges physically, challenges mentally, and challenges spiritually. Again, we are to endure brothers and sisters. Saint Mark, who wrote this Gospel book endured until death. Saint John, on that island of Patmos endured. And Jesus himself set the high-bar in His endurance. They didn't just talk the talk, they walked the talk. And now we too must endure.
But you are not alone in this most worthy endeavor, for we are in this together.
Brothers and Sisters, although we are blessed to be now in this time of Good News and Grace, we should endeavor not to get to comfortable. For we also know that the Great Tribulation is right around the corner. Today, Jesus gives us His Holy Word so that we will not be caught off guard.
Jesus also gave you this prophesy today of what is yet to come so you can know the seriousness of your decision to choose Him. It is time for repentance. It is time for you to be Saved. Have you made that decision yet?
As I started this message today with that Ready, Set, Go idea, I need to ask you, where are you in that paradigm? Are you at the Ready, or Set? Or are you prepared to give your life to God today? As Jesus said Himself, nobody knows the day or the hour that this all will take place. There have been plenty of signs, and it could happen real soon. Don't wait any longer.
Again, this is the first part of a three part message entitled Ready Set God! Next week we will talk more about The Great Tribulation. You won't want to miss that.
God loves you brothers and sisters. May God be with you all. Let us pray.