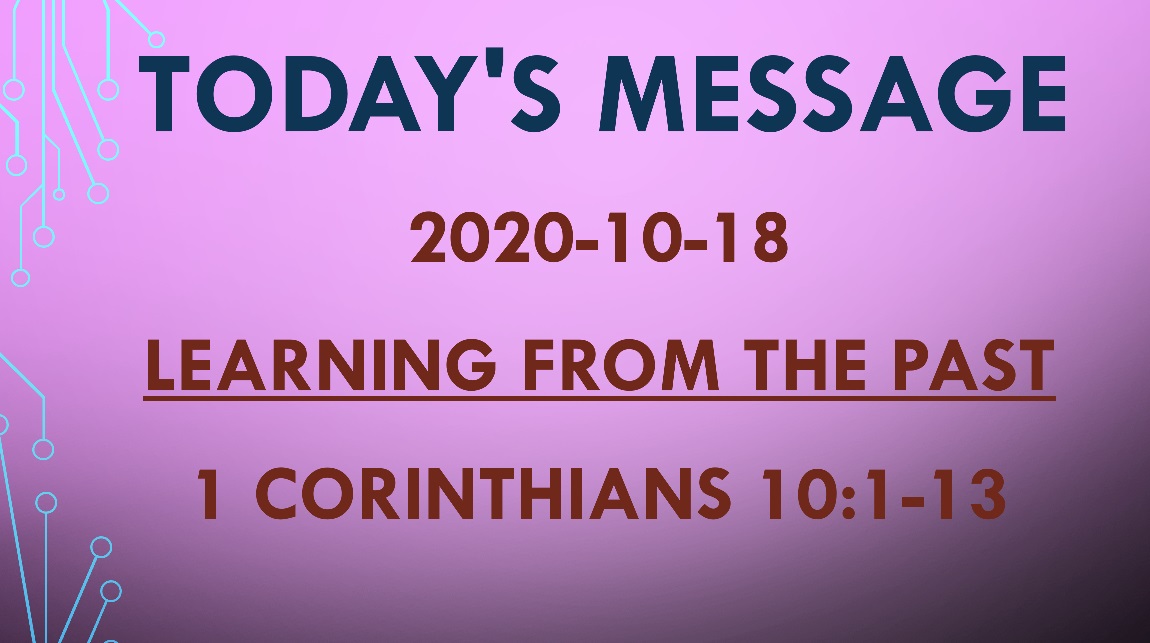 2020-10-18 – 1 Corinthians 10:1-13 – Learning from the Past
2020-10-18 – 1 Corinthians 10:1-13 – Learning from the Past
Good morning everyone. It is so nice to be able to spend some time with you all in fellowship with the Lord. Thank you and God bless you for being with us today.
Amy and I recently had the privilege to serving an elderly couple over the past couple months who were contemplating moving into an elderly care facility.
They were both in their 90's and they had no children or living relatives. Sadly, they both were starting to become forgetful and confused about life, so they wanted to prepare themselves for the next season before their bodies and minds further diminished. It was our pleasure to help them in this regard. He was a retired machinist and had so many old tools, gadgets and things in their home of 40+ years. We were just guessing about some of their purposes and their value. It was quite a challenge. The wife also had a shelf full of diaries that she had written over the years. It was surely a solemn moment when she requested that they all should be just thrown away. So much history they experienced and wisdom they both accumulated, and now it was being laid aside. That type of thing happens all the time sadly. Ashes to ashes, dust to dust. But having said that, we should also endeavor to leave our mark; to leave the world a better place then which we found it. We should learn from our past experiences and history so that the world might benefit in a small way going forward. And that is the topic of today's message, Learning from the Past.
Please turn now to 1 Corinthians 10:1, page 1017 in your pew Bibles, which is the Inspired, Infallible and Living Word of God.   Prayer..
Last week we read from chapter 9 where Paul was declaring our freedoms in Christ. In that, we are no longer held to the standard of the Law of Moses like the Jewish nation of old. Through Jesus, being our Messiah or Savior, we are now free to eat and drink what we want, and free to have relationships with whom we want. God gives us this freedom so that we would not be hindered in sharing the Gospel to all nations. We also learned last Sunday that God wants us to discipline ourselves so we might not sin. And part of that discipline effort is Learning from the Past. You may recall that famous speech in 1948, where Winston Churchill famously said, 'Those who fail to learn from history are condemned to repeat it.'
I call that wisdom. In these first verses today you will see that Paul is attempting to get the Corinthian believers to learn from the historical events and the mistakes of the Jewish nation. Starting at verse 1 Paul writes:
1 Now I do not want you to be unaware, brothers and sisters, that our ancestors were all under the cloud, all passed through the sea, 2 and all were baptized into Moses in the cloud and in the sea. 3 They all ate the same spiritual food, 4 and all drank the same spiritual drink. For they drank from the spiritual rock that followed them, and that rock was Christ. 5 Nevertheless God was not pleased with most of them, since they were struck down in the wilderness.
In these first verses, Paul is referring to when the Israelites were in the desert after escaping slavery by the Pharaoh in Egypt. Paul provides them an overview. When he wrote that "all passed through the sea," that's when they were freed from the Pharos's oppression and slavery and they walked through the Red sea. And when he wrote that they were "Under the cloud," that's when the Holy Spirit was guiding them in the desert by a cloud during the day and fire by night. They were "Baptized into Moses," thus identifying them as one people or tribe under Moses authority. And the "Spiritual food" and "Spiritual drink" is how God sustained them for the 40-year period they were wondering in the desert. In all this Paul was attempting to get the Corinthians to see God's blessings and God's provision. As God blessed the Israelites, God also blesses the Corinth believers, and God still blesses us now and we shouldn't ever take that for granted.
Then the shocker then comes in verse 5. Speaking about the Israelites in the desert Paul wrote, "Nevertheless, God was not pleased with most of them" – In fact we know that God was not well-pleased with any of them except Joshua and Caleb as they alone maintained their faith and trusted the Lord. This clearly indicates that God is watching and God cares about how we live and what we do.
Just like those early Israelites, and just like those Corinthian believers, our church too has seen God mighty hand at work. We have been blessed by God in so many ways and yet, I can bet that there are even some in our dear church family with whom the Lord not be not well-pleased about. Paul is telling us here that that our relationship with the Lord, and our blessings as a church family is something we should never take for granted. What happened to the people in Israel is what could happen to us here. "They were struck down in the wilderness" according to Paul and as it is written in the book of Numbers. They wondered in the desert for 40 years until all the adults that had sinned against God had passed away. They took God and His provision and His blessings for granted brothers and sisters. Paul is offering up these historical facts so that we can perhaps learn from their mistakes and not repeat them. We need to be counting our blessings and thanking the Lord for His care and Provision, Amen?
6 Now these things took place as examples for us, so that we will not desire evil things as they did. 7 Don't become idolaters as some of them were; as it is written, The people sat down to eat and drink, and got up to party. 8 Let us not commit sexual immorality as some of them did, and in a single day twenty-three thousand people died. 9 Let us not test Christ as some of them did and were destroyed by snakes. 10 And don't grumble as some of them did, and were killed by the destroyer. 11 These things happened to them as examples, and they were written for our instruction, on whom the ends of the ages have come. 12 So, whoever thinks he stands must be careful not to fall. 
I find it interesting that verse 6 says, "These things happened as examples for us". And then verse 11 restates that, "These things happened to them as examples, and they were written for our instruction." And then he further expounds just to make sure there is no confusion here and says, "on whom the ends of the ages have come". That means this applies to everyone that Jesus died for. Everyone that now lives in this age of Grace. That means the Corinthian believers, and that means you and I as well. We need to head Paul's advice.
Then notice in verse 7 it says, "Don't become idolaters as some of them were". That word Idolatry hits the big button in Corinth as many of their people were worshiping Athena, Poseidon and many other Greek Gods at the time. There were many that even earned their livings making idols. Some of the Corinthian believers were probably still participating in some of their idol festivals or celebrations. That same challenge impacted the Israelites as well. They were barely out of Egypt when many defected in their worship of God and created a ridiculous golden calf and were bowing down to it, and committing all kinds of horrendous sins in front of that golden calf. The Jews fell pray to idolatry; and Paul was warning the Corinthians not to fall pray to idolatry. And effectively he is warning us as well. The book of Exodus tells us that God killed thousands because of idolatry, so that is something we should never take for granted. Today, our idolatry may not include golden statues, but instead things like sports, money, alcohol, drugs, gaming, porn, and a host of other things.
We should never let anything take precedence over our love and attention for our Heavenly Father. For He is surely a jealous God, and He will hold us accountable.
The next verse tells us how they tested the Lord. It says at verse 9, "Let us not test Christ as some of them did and were destroyed by snakes". That's historical account comes from Numbers 21. They pushed to see how far they could go before the judgment of God fell. Matthew 4:7 says, "You shall not put God to the test." Those words come out of the mouth of Jesus at His temptation when Satan came after Him. You don't test God! Instead of asking "How much can we get away with?" We should be asking "How can we be more like our Savior?" That's the right question. Again, God is watching brothers and sisters, and we should learn from the lessons of others as depicted in scripture. That is wisdom.
There's another sin here that is indicated in verse 10 that many of us can easily fall into. That of complaining. "or grumbling" – "as some of them did, and were destroyed by the destroyer." The term used in the original language means to give expression to unwarranted dissatisfaction. Being dissatisfied and verbalizing it. In Exodus 16:2 it says, "The whole congregation grumbled" – murmured or complained against God. And in Numbers 16 almost 15,000 people died because of it. They were killed by the destroyer, the judgment angel. The same judgement angel who slew the first-born children in Egypt. The death angel apparently who executes complainers, grumblers, murmurers that complain against God.
So, these are the abuses that the children of Israel demonstrated and suffered for: worldliness, idolatry, immorality, living on the edge, and complaining. And they are all results of a lack discipline and self-control. They are abuses of the freedoms and abuses of privilege, flirting with the world in it's idles, flirting with the world and its morals, pushing the patience of God to the limits, complaining when we don't get what we want when we want it, all can result in tragedy. God is watching, God cares, and God will not be mocked.
In the Old Testament book of Joshua chapter 7, it tells the story of when Israel was in the process of conquering the area around Jericho. In that effort, there was a man named Achan who disobeyed God's command. Achan secretly took for himself a beautiful piece of gold from the plunder and hid it. But God saw it all; and that brought great trouble to Israel. Shortly thereafter the Jewish troops had a small battle in the town of Ai where they were literally decimated.
God was not with them in that battle. Joshua fell on his face before the Lord, and said, "O Lord God, why hast thou led us across Jordan only to let us fall before our enemies?" To which God replied "Israel has sinned. They have disobeyed my words, and have broken their promise. They have taken the treasure that belongs to me, and have kept it. And that is the reason why I have left them to suffer from their enemies. My curse shall rest on the people until they bring back that which is stolen, and punish the man who robbed me." So God told Joshua how to find Achan, for which he did, Joshua destroyed the plunder then Israel was then restored again to God's favor.
I tell you this story to show how fragile and precious our relationship with the Lord is. Even one person's sin can change the relationship we enjoy with God.
Brothers and sisters, we are blessed, and right now God is choosing to use our church for His purpose and we are starting to prosper as a result. But we should never take God for granted. Paul gives us a warning here and says "whoever thinks he stands must be careful not to fall". We need to be Learning from the Past examples we have in scripture, and Learning from the Past in our own lives as well. What's that old saying, "Experience is the best teacher". That was coined by the Roman leader Julius Caesar. But that experience comes from ourselves and from others. The Bible is full of those lessons and worthy of our attention.
Then finally in verse 13, the passage kind of wraps up this lesson. Paul wrote:
13 No temptation has come upon you except what is common to humanity. But God is faithful; he will not allow you to be tempted beyond what you are able, but with the temptation he will also provide the way out so that you may be able to bear it.
That's a very important but encouraging, final word because after you go through the first 12 verses, you may say to yourself, "I don't want to be the cause of God's disfavor on myself or this church. I don't want to be the one whose sin becomes the point of divine judgment." So, how can I deal with the temptations that the Devil has placed in front of me? How do I survive in this world? Well you don't need to live in fear. You don't need to live in panic. Yes you need to live warned and thoughtful and careful, but not as if the enemy is more powerful than you or the Holy Spirit that is in you. Because as verse 13 says, "No temptation has overtaken you but such as is common to man." But what does that mean? You may recall the old Flip Wilson line, "The Devil made me do it". Well that ain't true. Again, "No temptation has overtaken you but such as is common to man". So you cannot claim to be overpowered by anything. Yes, we all will face temptation, but we can deal with them. We can't blame God; we can't blame the Devil. And as Paul says, "God is faithful, He will not allow you to be tempted beyond what you're able." So the Lord knows what you can tolerate, and "He will not allow you to be tempted above that you are able." I take comfort in that understanding, and I hope you do as well.
For some of us, that's the reason we don't have more money than we do, or more fame than we do, or more of whatever we don't have. God knows us, and He knows what we fall easily prey to and will not allow such things to happen. Furthermore – with the temptation, we'll also be provided by God "the way of escape so that you may be able to bear it". We pray that, don't we? "Lead us not into temptation, but" – what? – "deliver us from evil." And He promises us here to do just that.
So the bottom line here is, we should learn from the examples of the people of Israel. We should learn from the examples of the disobedient Corinthians. We should learn to listen to the testimony of Holy Scripture, and the Holy Spirit that lives in our hearts, that the Lord is there, in the midst of all of our temptations to show us the way out. So we can continue to serve well for His purpose and Glory,
So in closing I will advise you to surround yourself with godly saints, especially those that have gained the wisdom of the ages. And in that you will be blessed. By the way, that elderly couple's story I started with today, you should know that they are doing alright. Although they have no living relatives, they have amassed some very good friends. Amy and I are blessed to be their friends over the years, and we are better people as a result. They lived a life well and that they positively impacted the lives of many including ours. Likewise, I pray that when I leave this earth, I can have that same sense of accomplishment. Not money not fame. But by demonstrating God's love upon those I leave behind. I wish to hear those wonderful words when get into heaven, "Well done good and faithful servant", and I hope you do as well. Would you join me now in prayer.
Would you please rise as we prepare for our closing hymn.
 "A FRIENDLY CHURCH IN A FRIENDLY TOWN"