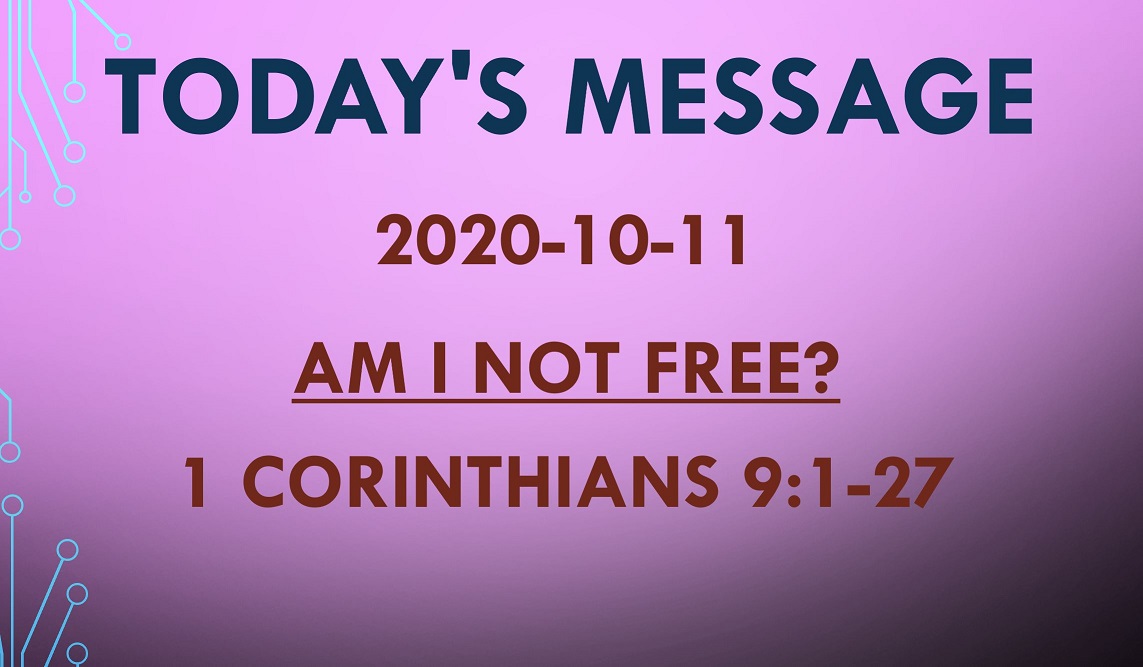 2020-10-11 – 1 Corinthians 9:1-27 – Am I not free?
2020-10-11 – 1 Corinthians 9:1-27 – Am I not free?
Good morning everyone. It is so nice to be able to spend some time with you all in fellowship with the Lord. Thank you and God bless you for being with us today.
We have been going through this book of First Corinthians now for the past couple months now. So I thought it would be a good idea to show you a little video of the Corinth city from a Christian point of view [VIDEO]
As you can see it was considered an enterprising, progressive and strategic city during the time that Paul set up the Corinthian church there. It was a perfect location to perhaps impact not only the locals there in Corinth, but also all the many travelers that passed through. What a great way to spread the Gospel. We all should look to maximize our impact too on the world for the glory of Christ.
Please turn now to 1 Corinthians 9:1, page 1016 in your pew Bibles, which is the Inspired, Infallible and Living Word of God.   Prayer..
Last week we finished chapter 8 of this First Corinthian letter. The message was called Liberty in Christ, and we talked about our freedoms as Christians. Today Paul continues in that thought, but this time the subject is ministry. The first words of this chapter here is also our Title today "Am I not Free". Paul wrote:
1 Am I not free? Am I not an apostle? Have I not seen Jesus our Lord? Are you not my work in the Lord? 2 If I am not an apostle to others, at least I am to you, because you are the seal of my apostleship in the Lord.
3 My defense to those who examine me is this: 4 Don't we have the right to eat and drink? 5 Don't we have the right to be accompanied by a believing wife like the other apostles, the Lord's brothers, and Cephas? 6 Or do only Barnabas and I have no right to refrain from working? 7 Who serves as a soldier at his own expense? Who plants a vineyard and does not eat its fruit? Or who shepherds a flock and does not drink the milk from the flock?
8 Am I saying this from a human perspective? Doesn't the law also say the same thing? 9 For it is written in the law of Moses, Do not muzzle an ox while it treads out grain. Is God really concerned about oxen? 10 Isn't he really saying it for our sake? Yes, this is written for our sake, because he who plows ought to plow in hope, and he who threshes should thresh in hope of sharing the crop. 
11 If we have sown spiritual things for you, is it too much if we reap material benefits from you? 12 If others have this right to receive benefits from you, don't we even more? Nevertheless, we have not made use of this right; instead, we endure everything so that we will not hinder the gospel of Christ.
13 Don't you know that those who perform the temple services eat the food from the temple, and those who serve at the altar share in the offerings of the altar? 14 In the same way, the Lord has commanded that those who preach the gospel should earn their living by the gospel.
15 For my part I have used none of these rights, nor have I written these things that they may be applied in my case. For it would be better for me to die than for anyone to deprive me of my boast! 16 For if I preach the gospel, I have no reason to boast, because I am compelled to preach—and woe to me if I do not preach the gospel! 17 For if I do this willingly, I have a reward, but if unwillingly, I am entrusted with a commission. 18 What then is my reward? To preach the gospel and offer it free of charge and not make full use of my rights in the gospel.
The first thing Paul does in this chapter is justify his apostleship. You might know that Paul does this several times in the New Testament. Although St. Paul was not one of the original 12 Apostles of Jesus, he was one of the most prolific contributors to the New Testament. Of the 27 books in the New Testament, 13 or 14 are traditionally attributed to Paul. Aside from Paul's own words, others too have confirmed Paul's authority. For instance:
In 2 Peter 3:15-16 Peter wrote, "Bear in mind that our Lord's patience means salvation, just as our dear brother Paul also wrote you with the wisdom that God gave him."
In Acts 9:15, The Lord said to Ananias, "Go! This man [Paul] is my chosen instrument to carry my name before the Gentiles and their kings and before the people of Israel."
And in Acts 13:2 it says, "While they were worshiping the Lord and fasting, the Holy Spirit said, 'Set apart for me Barnabas and Saul for the work to which I have called them [to].'"
So now in our verses today, Paul who claimed himself to be an Apostle asks the question, "Am I not free?" The Bible teaches us clearly that as Christians, we are now free, but what exactly does that mean? To answer that, let us see what our Bible text declares. In Luke 4:18, when Jesus first revealed himself as the Messiah, He said that He had come to Earth to "proclaim freedom". And in John 8:36, Jesus said that "If the Son sets you free, you will be free indeed". Having said that, we should understand that Jesus was not setting us free to do whatever we wanted; instead He was freeing us to do what we ought to be doing as Christ followers. Jesus was liberating us into a new relationship with God, to become the kind of people He created us to be. Additionally, He was freeing us from the Mosaic Law which wasn't just the Ten Commandments, it actually included some 613 commandments, which made it impossible for anyone aside from Jesus to maintain. They had laws for everything from how you ate, how you dressed and how you interacted with others. Now Jesus was saying we are free from those laws and we are now under a new covenant or contract with God.
Paul, in this first section of text affirms that as Christians we are free, however as an apostle, he is questioning the Corinthian church about their understanding of his rights and privileges as a minister and even his apostleship appointment. Can he eat and drink what other Christians can now eat and drink? Should he be paid for the work he is doing as their pastor and teacher in the faith just like they are earning their keep in their chosen vocation? Shouldn't he be allowed to get married and enjoy a family with children just like anyone else? And the answer to all that is yes. Apostles and Elders and Pastors and Preachers and Missionaries and Evangelists and Teachers should all have the same rights and privileges as everyone else. They shouldn't be restricted and they shouldn't have any additional rules applied to them either. We are all the same in Christ. However, as depicted well in Timothy and Titus, extra scrutiny should be on our leaders to make sure they are not compromising their ministry and risking the health of the church family.
Sadly some churches though have written or unwritten expectations of how a viable Pastor should fit their mold. And not only the pastor but their families as well. They should have an exceptional wife and proper disciplined young children, otherwise they may not even consider their application. I understand where they are coming from but those "expectations" are really preposterous.
As Christians we are all free in Christ brothers and sisters. We all now have the same foundation and the same mission that should complement the ministry that Christ has us now undertaking. To carry out the Great Commission, and to share in God's love until He calls us home, Amen?  Verse 19 Continues:
19 Although I am free from all and not anyone's slave, I have made myself a slave to everyone, in order to win more people. 20 To the Jews I became like a Jew, to win Jews; to those under the law, like one under the law—though I myself am not under the law—to win those under the law. 21 To those who are without the law, like one without the law—though I am not without God's law but under the law of Christ—to win those without the law. 22 To the weak I became weak, in order to win the weak. I have become all things to all people, so that I may by every possible means save some. 23 Now I do all this because of the gospel, so that I may share in the blessings.
I am so blessed to be your Pastor here at Orion First Baptist church. I truly felt God's calling on me to be here and to serve this community. That is my joy brothers and sisters, and I am more blessed in this calling than anyone else. Now I also enjoyed working for John Deere, and I enjoyed traveling the world and conducting business internationally and meeting some amazing people and learning their culture and language. But that was not my calling, and it became more and more apparent as time went by, so I gave it up to serve the Lord in this capacity. And praise the Lord, I have no regrets.
That is the dynamics that Paul is speaking about here in these verses. Paul sacrificed much for the sake of the Gospel. He made himself a slave or a servant "to everyone, in order to win more people". Paul's key argument was that both as a Christian and as an Apostle he had many rights that he had not claimed for the purpose of maybe leading some to Christ. Paul lays his privileges aside, he wrote "we endure everything so that we will not hinder the gospel of Christ". And if a minister is doing that, then we should be endeavoring as a church family to help support them in that mission. Paul wasn't thinking of his financial or political freedom here, but instead his spiritual freedom and his calling. Paul seems to indicate that the reward for what he was doing was built in the doing of it. That is where he found his sense of fulfillment. That is where he now found his joy.
What people do with their freedom is a clue to their character.
Paul decided that he would use his freedom to voluntarily become a slave or servant of Christ. He lived out what Jesus had taught His disciples. In Matthew 20:27 Jesus said, "Whoever desires to be first among you, let him be your slave, just as the Son of Man did not come to be served, but to serve". Paul's life would attest to the fact that he truly was a servant, and thus a great model for all of us. And let me suggest, that when a church body fails to love and caretake these types of sacrificial ministers, then it effectively puts a nail in their own coffin, and even threatens the viability of their church. We need to support our ministers and those that are endeavoring to share the Gospel of Jesus Christ, Amen?
24 Don't you know that the runners in a stadium all race, but only one receives the prize? Run in such a way to win the prize. 25 Now everyone who competes exercises self-control in everything. They do it to receive a perishable crown, but we, an imperishable crown. 26 So I do not run like one who runs aimlessly or box like one beating the air. 27 Instead, I discipline my body and bring it under strict control, so that after preaching to others, I myself will not be disqualified.
In these final verses Paul puts a price tag on spiritual leadership, and then he closes with a solemn warning. The analogy he uses first is that of the track meet. The city of Corinth hosted one of the most famous of the Greek athletic events, second only to the Olympic Games. Paul says we should "Run is such a way to win the prize". In order to win that prize we need discipline. Interestingly, that word discipline has the same root word as in the title of Disciple. Discipline generally means a controlled behavior or self-control. Whereas Disciple means pupil, or a person who learns from another. Paul is saying here that we need to discipline ourselves in our effort or task of being a Disciple of Jesus Christ. That applies to Apostles and Pastors as well as it applies to all Christians. When we don't adequately prepare and maintain our physical or spiritual health, we can easily become lazy and ineffective. Paul is suggesting that we need to be intentional brothers and sisters. The prize is worth it. The crown the Olympic runners received was a wreath which soon wilted, while the crown or reward of the faithful Christian will last forever. Also, in the Olympic races only one person could win, while in the Kingdom of God, every child of God has the potential for success. So we discipline our bodies with exercise. We discipline our mind by digging into our Bibles. And we discipline our hearts by loving on our neighbors.
In conclusion, as Paul began this chapter with the ringing declaration that he is free, he now closes it with the somber reminder that he is also human and he needs discipline. Paul, as a servant of God, dedicated his life as a model for us of what we should consider doing with our own freedoms. That is to serve Christ and His calling on our lives. But that calling will only come if you first submit Christ as your personal Lord and Savior, and accept the blessing of His amazing salvation. Will you consider doing that today?
Would you please rise as we prepare for our closing hymn.
 "A FRIENDLY CHURCH IN A FRIENDLY TOWN"