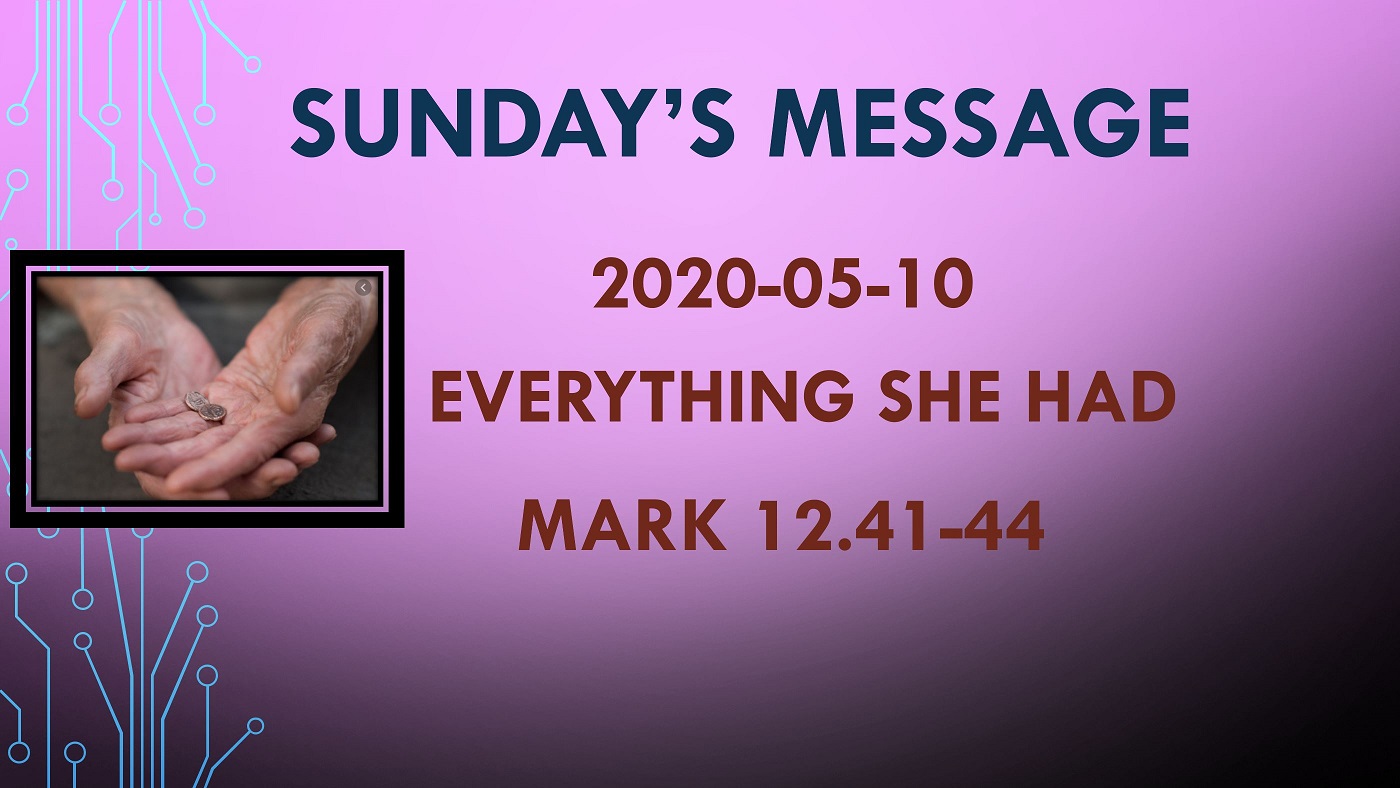 2020-05-10 – Mark 12.41-44 – Everything She Had
Bible Text: Mark 12:41-44 | Preacher: Pastor Jerry Higdon | Series: Mark | 2020-05-10 – Mark 12.41-44 – Everything She Had
Greetings everyone. It is so nice to be able to spend some time with you all in fellowship with the Lord. Thank you and God bless you for being with us today.
I am Pastor Jerry from the First Baptist church Orion Illinois. Happy Mother's Day to you all. Ladies, if you are a mom, if you step in to serve like a mom, or want to be a mom someday, today we honor you. We have been going over the life and ministry of Jesus through the Gospel book of Mark, and today in scripture we are going to address a topic that can be easily linked to Mother's day, and in particular the general sacrificial spirit of many a Mom in our world.
In the past, on Mother's Day, I have recognized several noteworthy Biblical women like Jesus's mother Mary, and the Bible story of Naomi and Ruth for instance. And there are so many other noteworthy mothers in the Bible I could have chosen from. For instance: Eve: The Mother of All; Sarah: The Mother Who Waited; Hagar: The Mother Who Endured; Rebekah: The Mother Who Believed; Hannah: The Mother Who Kept Her Promise; or Elizabeth: The Mother Who Believed in Miracles, and we could go on and on..
However this year I chose to do things a little different. I chose instead a woman of note that is not normally recognized as a hero of our faith. This lady is in fact one who was and could still be marginalized in some ways. Today we are going to step-into the life of a widow mentioned in Mark 12. She was not a leader, she was not a hero, and she was not the mother of generations of saints. She was a simple widow that Jesus chose to regard with high honor for her sacrificial spirit.
Please turn in your Bibles to Mark 12.41 of God's Inspired, Infallible and Living Word. But let us first start with Prayer.
This section of mark is entitled "The Widow's Gift". Before we get into the story, I would first like to give you a little background. Jesus was in the Holy Temple in Jerusalem, and in last weeks sermon we saw that Jesus had gotten the attention of the Sanhedrin Council and they were attempting to trip Him up by asking where Jesus got His authority. And Jesus subsequently responded back with a question to them that they were not able to answer. So they left out somewhat humiliated, and they started to contemplate how they could put Jesus to death. Now Jesus started teaching in that outer area of the Temple, and He was calling out the hypocrisy and the wrongful actions and practices of the Jewish priests and teachers that were serving there. They were making a mockery of God's will and God's children. They were also promoting a position of prosperity amongst the elite. From their standpoint, the more you gave, the more you would blessed by God. That made Jesus furious. Then verse 41 of chapter 12 states:
41 Sitting across from the temple treasury, [Jesus] watched how the crowd dropped money into the treasury. Many rich people were putting in large sums. 42 Then a poor widow came and dropped in two tiny coins worth very little.
43 Summoning his disciples, he said to them, "Truly I tell you, this poor widow has put more into the treasury than all the others. 44 For they all gave out of their surplus, but she, out of her poverty, has put in everything she had —all she had to live on."   This story is also written about in the book of Luke, chapter 21.
As I stated earlier, Jesus was not a welcome character in the temple by most, especially the Sanhedrin Council leadership. Perhaps you can you imagine Jesus sitting in that temple, where the tension could probably be cut with a knife.
They wanted Him out of there, in fact they want Him dead. He was sitting down opposite the temple treasury where He was watching the people put money in the large trumpet-shaped vessels along the wall. Then along comes a poor widow and drops in her last two coins. The coins she gave were the smallest denomination in use at the time, commonly referred to as mites. They were valued about an eighth of a cent apiece. Jesus said it was all that she had to live on. This meant she probably would not be able to eat until she earned more some how. Few would argue that this widow exemplified true sacrificial giving. And that is what we are going to concentrate on in this message today, sacrificial giving.
In this story, the widow is presented by Jesus as a model of dutiful and faithful giving, especially against the ugly backdrop of the corrupt thieves and the prideful religious leaders of Israel, many of who were in the audience that day with Jesus as He was teaching. To Jesus, the widow is seen as a breath of fresh air against the smug atmosphere He was experiencing. A noble woman who gave sacrificially. We don't know much of anything about her really other than she was a widow, meaning she was married at one time and now her husband was dead. This bible story is most frequently referred to in promoting an attitude of sacrificial giving in the church against that of prideful arrogance relating to tithes and offerings.
People will sometimes distort this story and say this is how we all should give. We ought to give till it hurts, we ought to give so that we completely demonstrate our trust in God. However that isn't at all the message Jesus was trying to convey here. Again, in verse 43 it says He subsequently called His disciples to Him, and He said to them, "Truly I tell you, this poor widow has put more into the treasury than all the others. For they all gave out of their surplus, but she, out of her poverty, has put in everything she had —all she had to live on."
Comparatively speaking, her gift was greater because it was a hundred percent of what she had. And the sad fact is, their corrupt mechanism somehow compelled her to give her last two coins to the temple treasury. Our scripture is full of commands in the Old Testament and the New, that we are to take care of the widows not exploit them. But false religion has no interest in that at all, instead they frequently abuse the elderly widows, and sadly they do it in the name of Christ even today. This is a tragedy. It boils my blood to tell the truth, and the Lord will not tolerate it. That is why it is so important for us as a church to step in and take care of our shut-ins, especially the widows. Please help us in that effort.
Brothers and sisters, I will suggest to you that lady didn't just sacrifice those two coins that day. On the contrary, because it was all she had, that widow knowingly sacrificed herself in that offering. She gave her all. Jesus saw her willingness to sacrificially give to God and it was credited to her account. And that is what I wish to highlight today as we reflect now on some of the sacrificial offerings of our mothers. Those same attributes are what makes Mothers so special in our hearts as well. Mothers have played an incredible part in saving and serving our families throughout history through their daily sacrifice. Mothers, we honor you for who you are and for who you so powerfully remind us of, that being the image of Jesus Christ. He sacrificed Himself for us on that cross, and your unending sacrifices reflect His amazing love as well, so we thank you for that.
Today is a special day where we celebrate you Mom. Most would attest that they would not be the person they are without their mother's influence and love. I will suggest the toughest and most grueling job that has ever been or will be is that of being a mother. Mothers are very special and unique people that God created specifically for the unending and often times unappreciated task of motherhood.
A Mother makes sure that her children are provided for: Physically by good hygiene; safe shelter; clean clothing and nourishment. Mentally, she develops the mind and character of her children and builds their self-esteem. Spiritually by reading bible stories; demonstrating prayer and preparing the family for church. And especially Emotionally as no one understands us better than our Mom – even as adults.
And a Mother sacrifices her life for her children. She takes the hard blows of life and buffers the storms from her children. Then there is the connection. Mom's have a connection with their children from even before birth that fathers frequently envy. That umbilical cord is really not severed at birth. That connection is real and life lasting and priceless. And when her child is born; a mother's life is changed forever. And although there are unending challenges, Mom's will attest the effort is much worth it. In my home, and probably many of yours also, the old saying is so true. "A father's work is from sun to sun but a mother's work is never done!". I have witnessed this in so many ways and it truly humbles me.The widow in our verse today sacrificially offered God all that she had. I would ague that Mom's do that all the time, and that is what truly makes them special and worthy of our praise.
I hope today, that our mothers realize just how special and amazing they are and they continue to be. Thank you Moms for reflecting God's love to all of us everyday. (Thank You Mom!) Finally we all must acknowledge that it's not easy being a mom, so for all the youth listening today, I have a few suggestions that you might consider to bless your mom with on occasion going forward. It won't cost you a cent, but it would be worth a fortune for her. Just a say one of these five simple statements:
1.) "Mom, you are right."
2.) "Mom, Thanks for all that you do for me."
3.) "Mom, I should have listened to you more."
4.) "Mom, I hope that I am as good of a parent as you are."
5.) "Mom, I love you very, very much."
Affirmation means so much in our relationship. Somehow affirm your appreciation with your mom if possible and you will bless her and be blessed back yourself. I promise.
Interesting to notice in our Bible story today, Jesus never mentions the Widows name. And isn't that just like the story of our moms today? In so many things they don't ever take the credit. In so many ways they are in the background of all what is going on in the family, in the community and in the church. So let me be the first to say to you Mom's, we are so fortunate to have you in our lives. On this special Mother's day, maybe we could simply honor our moms by just saying their names out loud. Mine is Rosa Lee. What is your mother's name?
There are many ways the Bible points out to us the importance of our moms. The one that really touches my heart is when Jesus was put up on that cross, and His mother Mary was looking up to Him. Then before Jesus died, He effectively gave His mother Mary to His Christian brother John to caretake. In John 19:26 it says, "When Jesus saw His mother and the disciple whom He loved standing nearby, He said to His mother, "Woman, here is your son." Then He said to the disciple, "Here is your mother." So from that hour, this disciple took her into his home".
Of all the things Jesus did for us, throughout all the things he painfully endured, He still recognized His mother Mary and made sure she was taken care of after His death. I will suggest that is a perfect example for us to follow in our days left on the earth. We should honor our parents, and I will add especially our Mothers.
Jesus sacrificed Himself on that cross for them that day, and for you and for I as well. How privileged we are now to know Him. So I got to ask you, just as Jesus gave Himself for us, have you given yourself over to Jesus yet? I hope you have, if not, maybe today is that day. When we go to heaven, the bible says there will be a great reunion for all who accept Jesus's gift of salvation. I want to be in heaven with my family. But that can only happen if each has accepted God's gift of salvation. Don't delay, as we never know what tomorrow will bring.
My closing prayer is that "When we all get to heaven, what a day of rejoicing it will be, when we all see Jesus, we'll sing and shout a victory".
God loves you brothers and sisters. May God be with you all. Let us pray.