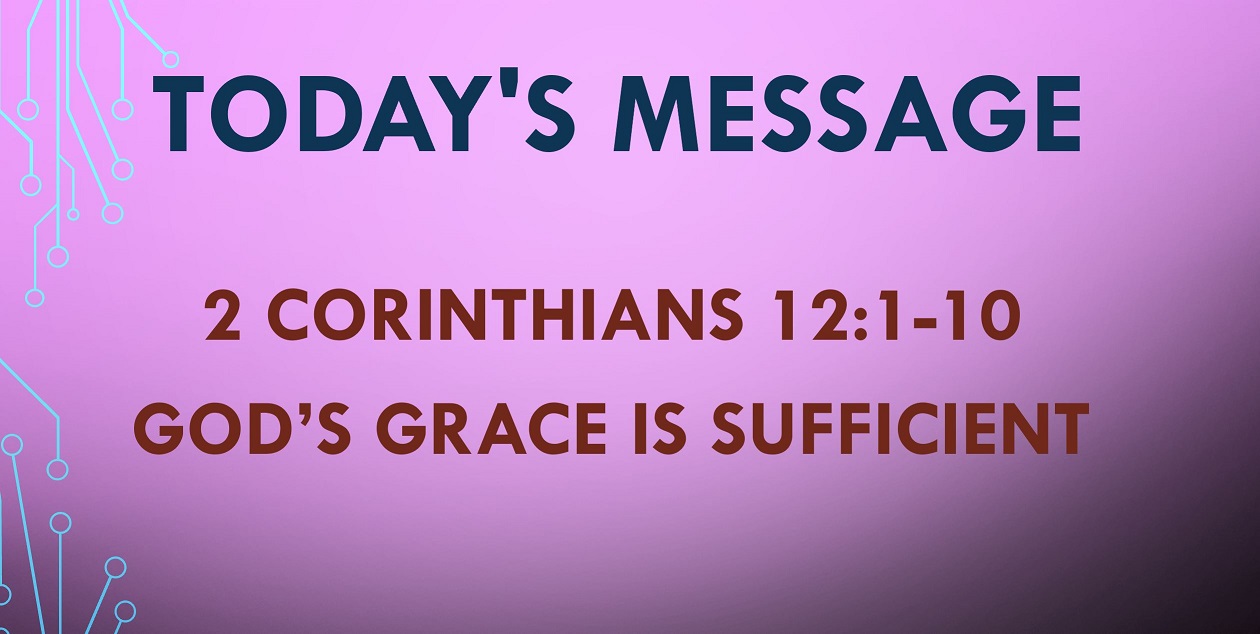 2021-06-13 – 2 Corinthians 12.1-10 – God's Grace is Sufficient
2021-06-13 – 2 Corinthians 12.1-10 – God's Grace is Sufficient
Good morning everyone. It is so nice to be able to spend some time with you all in fellowship with the Lord. Thank you and God bless you for being with us today.
We are continuing in our study Second Corinthians where last week we left off where the apostle Paul clearly conveyed his ministry credentials, or as we called it "Paul's Resume". Paul had faced many life-threatening challenges. He was an amazing man to say the least. He put it all on the line for Christ, and I would argue that we should all consider doing more of that ourselves. I know that there are a lot of Christians out there that live a relatively wholesome life, but few put their lives on the line like Paul. I surely respect those that I see that are truly sacrificing for the Gospel, and I hope you do as well. Like Paul, perhaps some of you will be known for your dedication to Jesus and the Gospel. That would surely be my hope and my joy to witness.
Today, as we are getting closer to the end of this most excellent letter-book of Second Corinthians, Paul is hitting on some of his final thoughts to leave with the Corinth believers. Paul had an amazing life and we are going to see some of that life unfold here in our scripture reading this morning.
Please turn now to 2 Corinthians 12:1, page 1029 in your pew Bibles, which we call God's Inspired, Infallible and Living Word.   Prayer..
Question: Have you ever had a dream or a vision that after you woke up, you wondered if this life was real or was the dream real? Not necessarily a scary dream but a dream where you really had to pause and look around for a few moments to get your bearing again. When I was a child I had a dream a couple times where I thought I could move things with my mind. When I woke up, I thought those things really happened, and I subsequently tried to exercise that superpower if you will, but to my dismay it was only a dream. We are going to see in these first verses today that Paul had that type of powerful experience or vision. His life was a testimony of the fact he believed it was true. I have faith in in my heart that God gave Paul some unique experiences that really did set him apart for the ministry he was commissioned to undertake. Throughout scripture we see dreams and visions are sometimes used by God to convey His message and mission. We have an AWESOME God, Amen?  Verse one of chapter 12 reads:
1 Boasting is necessary. It is not profitable, but I will move on to visions and revelations of the Lord. 2 I know a man in Christ who was caught up to the third heaven fourteen years ago. Whether he was in the body or out of the body, I don't know; God knows. 3 I know that this man—whether in the body or out of the body I don't know; God knows— [SLIDE] 4 was caught up into paradise and heard inexpressible words, which a human being is not allowed to speak. 5 I will boast about this person, but not about myself, except of my weaknesses.
Again, Paul is obviously writing about himself in third-person here. As we will see in the rest of our verses today, Paul clearly refers to himself and his experiences. About boasting, as we read in the chapter before this, Paul is a little embarrassed in the whole idea of talking about his accomplishments and credentials and experiences. So here he decides to write about himself as if he were another person. This kind of reminds me of when folks do this to get answers to problems they themselves have. They might say something like, "I have a friend that has this problem" or "asking for a friend, wink, wink".. but really, they are talking about themselves. It can be somewhat embarrassing to talk about yourself, especially if you are at the same time trying to maintain a humble demeanor.
Anyway, we see in this writing that Paul refers to the idea that "a man" was caught up into "the third heaven" or paradise. In our Bibles, the word heaven can refer to three different places. The sky or the earth's atmosphere would be considered the "first heaven". The second heaven can refer to outer space, where the Sun, moon, stars and planets are. And finally, the "third heaven" can refer to the place which is beyond the other heavens, the place where God's thrown is.
Paul also mentions in these first verses the word Paradise, which is another name for heaven. That word is paradise is mentioned only three times in the New Testament. You may recall when Jesus was on the cross, he was asked by the 'good' thief, as recorded in the Gospel of Luke to "remember him" when Jesus arrives at His kingdom. Jesus responded saying, "Truly I tell you, today you will be with Me in Paradise." Then in Revelation 2:7 it says, "He who has an ear, let him hear what the Spirit says to the churches. To the one who conquers I will grant to eat of the tree of life, which is in the paradise of God." And here in our verses today Paul conveys that he was "caught up in paradise" when he heard those "inexpressible words, which a human being is not allowed to speak".
Again, Do I believe it? absolutely. I would suggest that Paul had a very unique and special relationship with God through Christ. Paul is the only one on record that was specifically chosen by Jesus to be His apostle after Jesus had already ascended into heaven. And from that point on, Paul's life was radically changed. He immediately went from being a persecutor of Christians, to one of the most ardent followers and champions of our Christian faith. That is the proof of the pudding brothers and sisters. Paul didn't just talk the talk, he walked the talk and that is what we should all be about doing likewise. Paul continues now at verse 6:
6 For if I want to boast, I wouldn't be a fool, because I would be telling the truth. But I will spare you, so that no one can credit me with something beyond what he sees in me or hears from me, 7 especially because of the extraordinary revelations. Therefore, so that I would not exalt myself, a thorn in the flesh was given to me, a messenger of Satan to torment me so that I would not exalt myself. [SLIDE] 8 Concerning this, I pleaded with the Lord three times that it would leave me. 9 But he said to me, "My grace is sufficient for you, for my power is perfected in weakness."
First here, Paul talks about some "extraordinary revelations" he had received. One could surmise that those revelations were given to Paul by God while he was in paradise heaven. And some or all of those revelations are the things that Paul was not allowed to us speak about. I believe wholeheartedly that there are many, many things that we will have no clue about while we are still here in the flesh. I don't think we could handle some of knowledge of what God might have revealed to the apostle Paul. And that knowledge alone could be that figurative "thorn in the flesh" that plagued Paul. How many times have you been given some juicy information that somebody told you not to tell. That could drive a person crazy.
While I was in the Army I had what is called a secret security clearance. My son stephen, who now works for the Securities Exchange Commission has a top secret security clearance that I don't think even has an official name. One thing that you get drilled into you in the military service is, not only do you have to have the appropriate clearance, but you also have to have the "need to know" for most any piece of classified information. I think we can probably surmise that what Paul received in regards to those "extraordinary revelations", is something that we don't have the right clearance for, and we also don't have the "need to know".
Notice also in Paul's letter here, he also calls that thorn that he had "a messenger of Satan" and that it had a purpose of "torment." Many explanations have been put forward on what that thorn might be, but whether Paul is referring to a physical, spiritual, or emotional "thorn" affliction—or something else entirely—has never been answered with adequate satisfaction for most. Since he was not talking of a literal thorn, some of the more popular theories include perhaps a temptation, some kind of regret, a chronic eye problem, maybe malaria, migraines, epilepsy, or even a speech disability. No one can say for sure what Paul's thorn in the flesh was, but it was a source of real pain in the apostle's life.
Although the exact nature of Paul's "thorn in the flesh" is uncertain. I would bet there is probably a good reason that we don't know. God likely wanted Paul's thorny challenge to be described in general enough terms to apply to most any difficulty we may face now. Therefore, whether the "thorn" we struggle with today is physical, emotional or spiritual, we can know that God has a purpose and a plan, and that His grace is all-sufficient. I love what the Lord said to Paul, "My grace is sufficient for you, for My strength is made perfect in weakness". This also shows that sometimes the answer from God for our prayers is "no". But since we trust our life and soul to God, even a "no" answer is good enough for me. Because I know He loves me, and I know He knows what is best. Additionally, sometimes when we are in a position of need, that need allows us to realize again how much we need God. Paul continues at verse 9 where he concludes with this:
Therefore, I will most gladly boast all the more about my weaknesses, so that Christ's power may reside in me. 10 So I take pleasure in weaknesses, insults, hardships, persecutions, and in difficulties, for the sake of Christ. For when I am weak, then I am strong.
The title of this message today is God's Grace is Sufficient, and I hope you really believe that. God's Grace is Sufficient. God didn't give Paul what he asked for even three times, but instead God gave Paul what he needed. Paul recognized that and considered himself blessed as a result. He said, "when I am weak, then I am strong". That type of strength comes from God many times through our trials and through our sufferings. So that maybe we become weak enough to finally recognize that we can't do it on our own, that we need our Father God. Then we can then effectively "tap-out" and let God do His amazing work.
In the sport of wrestling, they sometimes have what is called a tag team. When things get tough, all one wrestler has to do is tag the other team member, then they jump-in and take over. As Christ followers, Jesus is our tag-team partner. And when things get tough, we can have comfort knowing that Jesus watching, and He is reaching out to you, waiting for you to tap-out and call upon Him. Give Jesus your problems. Give Jesus your stress and concerns. Like Paul, whose resume is just filled with adversity, trusted in Jesus to be his Savior and Lord. We can do the same here today.
So what is our takeaway from all this? Like Paul, maybe we can see that our physical and mental challenges and weaknesses can actually be a strength in God's economy. God wants us to tap into that mustard seed of faith that we have in our hearts and our minds, and plug-into our mighty God's power that can move mountains for you. God do anything, and He loves you so, trust Him in this.
Again, in our last verse today, Paul said in 2 Cor 12:10 "I take pleasure in weaknesses, insults, hardships, persecutions, and in difficulties, for the sake of Christ. For when I am weak, then I am strong". So, what are your weakness? How have you been insulted? What kind of hardships/persecutions/difficulties have you faced lately? What is the "thorn in your side"? We need to recognize them and then choose to lay them down at the foot of the cross.
"For the sake of Christ" brothers and sisters, choose to lay them down today.
Ask God to forgive you again, and receive afresh His amazing mercy and grace.
Would you please stand now and let us close with prayer
God be with you all.