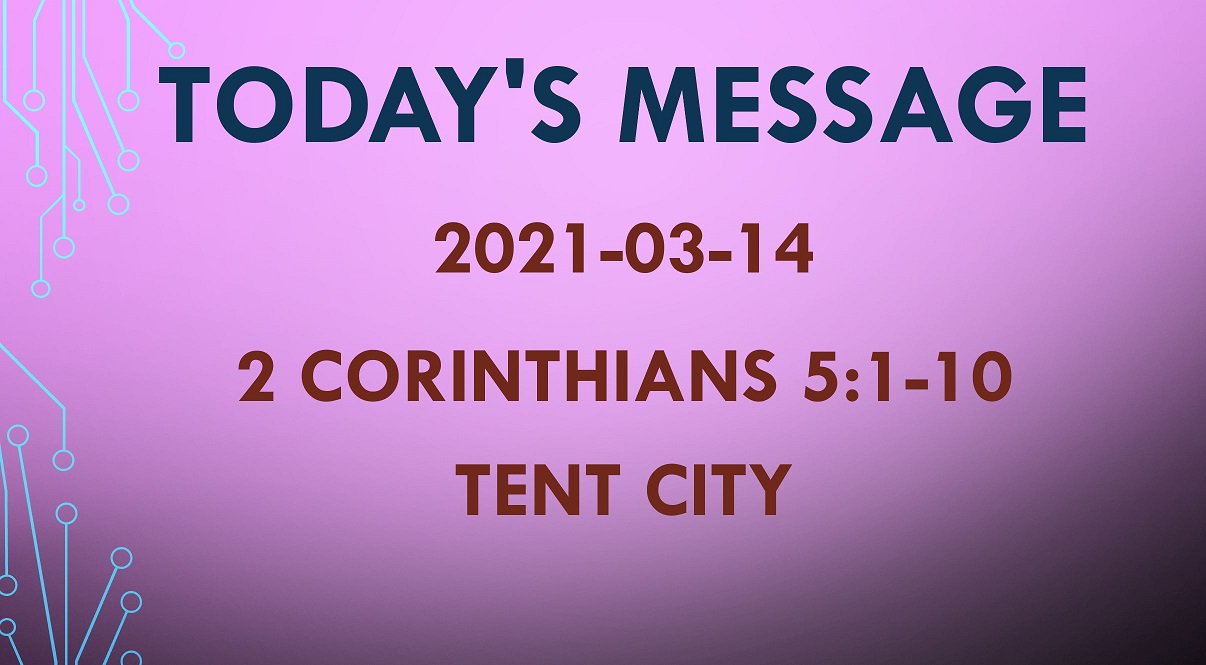 2021-03-14 – 2 Corinthians 5:1-10 – Tent City
2021-03-14 – 2 Corinthians 5:1-10 – Tent City
Good morning everyone. It is so nice to be able to spend some time with you all in fellowship with the Lord. Thank you and God bless you for being with us today.
As of just yesterday, it is officially spring time in our part of the world. Anyone here looking forward to getting outdoors again and enjoying God's wonderful creation again. I can't wait to get out my fishing pole and going camping again. There is just something special about the great outdoors, amen? Some of you know I have a little pup-tent. It is actually made to be pulled by motorcycle, but instead I pull it with my "Pope-mobile". Isn't that a fun formula for success.. Pastor Jerry in the Pope-mobile towing around a motorcycle pup-tent. Lol. I could just hear my momma saying, what ever floats your boat Jerry, Lol.
Today we are going to talk a little about tents, but a different type of tent.
Please turn now to 2 Corinthians 5:1, page 1025 in your pew Bibles, which is the Inspired, Infallible and Living Word of God.   Prayer..
In last week's message, as we read from the previous chapter, where Paul referred to our bodies as being like fragile jars of clay. He said also that as Christians we have the Holy Spirit (or treasure) inside of us. We may be fragile and perplexed at times, but "we do not give up". We should recognize that the struggles we have in this life are fleeting. He calls it a light momentary affliction. I don't know about you, but I needed that reminder again. I have surely been encouraged by reading this second epistle of Paul's to the Corinthian believers. Paul now continues in this fifth chapter. I am going to read our verses today in their entirety, then I will break it down and explain and reflect on what Paul is trying to get us to understand in them. So, starting at verse 1 he wrote:
1 For we know that if our earthly tent we live in is destroyed, we have a building from God, an eternal dwelling in the heavens, not made with hands. 2 Indeed, we groan in this tent, desiring to put on our heavenly dwelling, 3 since, when we are clothed, we will not be found naked. 4 Indeed, we groan while we are in this tent, burdened as we are, because we do not want to be unclothed but clothed, so that mortality may be swallowed up by life. 5 Now the one who prepared us for this very purpose is God, who gave us the Spirit as a down payment. [SLIDE]
6 So we are always confident and know that while we are at home in the body we are away from the Lord. 7 For we walk by faith, not by sight. 8 In fact, we are confident, and we would prefer to be away from the body and at home with the Lord. 9 Therefore, whether we are at home or away, we make it our aim to be pleasing to him. 10 For we must all appear before the judgment seat of Christ, so that each may be repaid for what he has done in the body, whether good or evil.
Starting right out, we can easily surmise that when Paul talks about "our earthly tent" he is referring to our physical bodies. Just like how he wrote about in the previous chapter that our bodies were like fragile jars of clay, now he infers that they are also likened to fragile tents. You might also keep in mind, that in regards to tents, Paul was an expert on the subject matter. For besides being a great evangelist-church planter and apostle, Paul was also a professional tent maker, along with his friends Pricilla and Aquila.
Although Paul worked full-time at planting churches and preaching the gospel, he also supported himself whenever possible through his chosen trade of tentmaking. We can see that clearly in Acts 20:33 Paul said, "I have not coveted anyone's silver or gold or clothing. You yourselves know that these hands of mine have supplied my own needs and the needs of my companions". Even today a large percentage of pastors use outside employment to supply for their needs in the ministry. Pastor Jeremiah is a contractor, and I still dabble in the IT field. We are bivocational pastors or "tentmakers", but we also consider those other skills to be a ministry that God has called us into.
So in our text here, Paul was using an illustration for which he knew much about. And these fragile "tents" according to Paul, when we die, will be replaced with new bodies that will be much batter. I don't know about you, but as I am getting older, my body is starting to break down, and I am kind of looking forward to this promise that Paul makes here. Paul says twice in these verses that "we groan in this tent". At the time of this writing Paul was probably close to my age, in his mid-fifties. Keeping in mind that the average lifespan for a male in Paul's day was about 35-40 years. So Paul, probably thought he was already on what we call "borrowed time". On top of that considering all the trials, beatings and even deathly endeavors he experienced, I would bet he was starting to feel the pain,
if you know what I mean. Maybe he too had at times had some groaning in the morning, lol.
Even I, in my much more comfortable state, sometimes feel the pains of my 58 years of life. I feel my fragile tent wearing down some as I am getting older. I was talking to a VA nurse just the other day, and she asked a simple question that ended up taking 30 minutes to explain. She said simply, what is wrong with you? Lol. Little to say, I have a small laundry list of issues that can plague me at times. I maybe getting old, but I am still smiling. For God prepared me for these latter years. And like Paul wrote about here in verse 5, I can have much hope, because God "gave us the His Holy Spirit as a down payment". The moment you accept Jesus as your Lord and Savior. That Holy Spirit comes into our lives. And that precious gift of God serves as a down payment for what waits ahead for us in heaven. Therefore, I have no complaints brothers and sisters.
And that is the Good-News Gospel in a nutshell, Amen?  Verse 6 continues:
6 So we are always confident and know that while we are at home in the body we are away from the Lord. 7 For we walk by faith, not by sight. 8 In fact, we are confident, and we would prefer to be away from the body and at home with the Lord.
As a born again, believing and repented Christian, I know that my home and my hope is really with the Lord. And even though I realize that this fragile tent is slowly passing away, and that even the world that we live in is groaning in agony from the result of sin, therefore like Paul says here, we should prefer to be at home with the Lord in heaven. [SLIDE] In the book of Romans, Paul also wrote about this same dynamic. Starting at chapter 8, verse 18 he said:
18 For I consider that the sufferings of this present time are not worth comparing with the glory that is going to be revealed to us. 19 For the creation eagerly waits with anticipation for God's sons to be revealed. 20 For the creation was subjected to futility—not willingly, but because of him who subjected it—in the hope 21 that the creation itself will also be set free from the bondage to decay into the glorious freedom of God's children.  [SLIDE]
22 For we know that the whole creation has been groaning together with labor pains until now. 23 Not only that, but we ourselves who have the Spirit as the firstfruits—we also groan within ourselves, eagerly waiting for adoption, the redemption of our bodies. 24 Now in this hope we were saved, but hope that is seen is not hope, because who hopes for what he sees? 25 Now if we hope for what we do not see, we eagerly wait for it with patience.
So even "All of creation" Paul says is groaning, and I believe it. With all the earthquakes, volcanoes, and destruction that seems to be escalating as the years go by, I think God is trying to tell us something. This is not the Garden of Eden. When God initially created the world, according to Genesis, after he finished He said it was all good. But then sin entered into the world and messed everything up. We can see destruction escalating now all around us. But God has a plan and a purpose. He will one day soon remake this world we live in. Bring it back to its former beauty, balance and glory. I so look forward to finally seeing what our eternal lives will be like without death and destruction, or pain and sorrow.
One might ask then, when is this going to take place. How long must we wait until the perfect will come to us Christians? And that indeed is a great question.
Depending on how you read the Bible, there are differing views of when this will take place and what will happen when it all does take place. There are several events that we believe according to scripture that will occur. The way I read it, here is the abbreviated sequence to consider from scripture. First, the Rapture, it is when Christians will be taken away and we will meet Jesus in the clouds. Then the seven-year Tribulation where the Antichrist, the false prophet and satan will attempt to take over, but God takes control and destroys much of the Earth in the process. Then Millennial Reign where Jesus is king for a thousand years. Then the final battle and the judgement of Satan, his demons, and those that choose not to accept Jesus as their savior. They will be cast into the Lake of Fire for all of eternity. Then finally God will recreate heaven and a new earth, where everything is made perfect again, and righteousness is reestablished as the norm.
I am so looking forward to that final state of being. When we will be with Jesus forever, and His amazing love will rule our hearts again for all eternity.
In our Adult Sunday School class, they just completed the book of Daniel and now they are starting the book of Revelation. In that, many of this sequence I mentioned is laid out in scripture. Again, the first event I believe will take place is the Rapture. That word "Rapture" literally means "caught up" or taken out.
That event is written about in 1 Thessalonians 4 which was also written by the Apostle Paul. Here is a piece of what it says starting at verse 16: [SLIDE]
16 For the Lord himself will descend from heaven with a shout, with the archangel's voice, and with the trumpet of God, and the dead in Christ will rise first. 17 Then we who are still alive, who are left, will be caught up together with them in the clouds to meet the Lord in the air, and so we will always be with the Lord. 18 Therefore encourage one another with these words.
I don't know about you, but I am definitely encouraged by those words of Paul. To me this means that I don't have to go through the Tribulation and witness the destruction of the world as we know it. I am looking so forward to meeting Jesus in the sky and then spending eternity with Him. But whether you agree with me on this, or if you believe in a different sequence of events, the mere fact that we know our home in heaven is secure and that we get to be with Jesus in the end, should bring us much encouragement indeed.
Again, we don't know exactly when all this will take place. But the Bible tells us to that we should be watching for the signs. God gives us a list of the many things that will have to happen before the Tribulation occurs, and many of those signs or events have already taken place. So, understanding that dynamic, should cause us to pay great attention, for although we don't know exactly when that Tribulation event will occur, if the Rapture happens before the Tribulation then that means it could happen any day now, even today.
So, I got to ask you dear friends, ladies and gentlemen, are you prepared for that? Are you ready to meet Jesus step into eternity with Him? Paul's final verses today starting at verse 9 address that blessed and holy encounter. Paul wrote:
9 Therefore, whether we are at home or away, we make it our aim to be pleasing to him. 10 For we must all appear before the judgment seat of Christ, so that each may be repaid for what he has done in the body, whether good or evil.
That Judgement Paul is referring to here could be one of two types of judgement. There is the final judgement that Satan, his demons and the unbelievers will face that will eventually lead them to the Lake of Fire and eternal death. Or there is the other judgement for that awaits Christians, that judgement will not lead to destruction, but eternal life. That judgement for Christians is to determine their blessings, their position in the kingdom and their crowns even. So again I ask you, are you ready?
So, to summarize this message today, you should realize that this fragile tent we have that we call our mortal bodies are just temporary. God has promised us a new life, and as a down payment we have received His Holy Spirit.
Finally, speaking about tents, I remember many times being in a tent while serving in the military. I remember one time as I was looking down from hill in the desert and seeing thousands of tents as far as my eyes could see. It was really a Tent City if you will. Then as I was standing there looking I noticed a "sand devil" mini-tornado that was making its way through the center of camp. One by one the tiny-sand-tornado was hitting tent after tent. I must admit, that was little entertaining to see the tents one after another blowing up like balloons and then falling down. All the troops would come running out in Chaos. They were alright but shocked as they tried to figure out what happened.
I use that illustration though to remind you here today just how fragile these tents we call bodies really are. And we in this church are like a Tent City. And just like that sand-devil was knocking down those tents in the desert. The devil of this world is trying to knock you down as well. He doesn't want you to reflect upon your mortal position. He doesn't want you to take out any insurance or put your trust in the Great Tentmaker God. The devil wants to distract you any way he can. He wishes that you would continue down your own path and not worry about securing your eternal future. In closing I plead with you here today. Please don't fall for the devil's schemes. Put your trust in the Lord, for He loves you so.
Will you do that today?
Let us now stand together