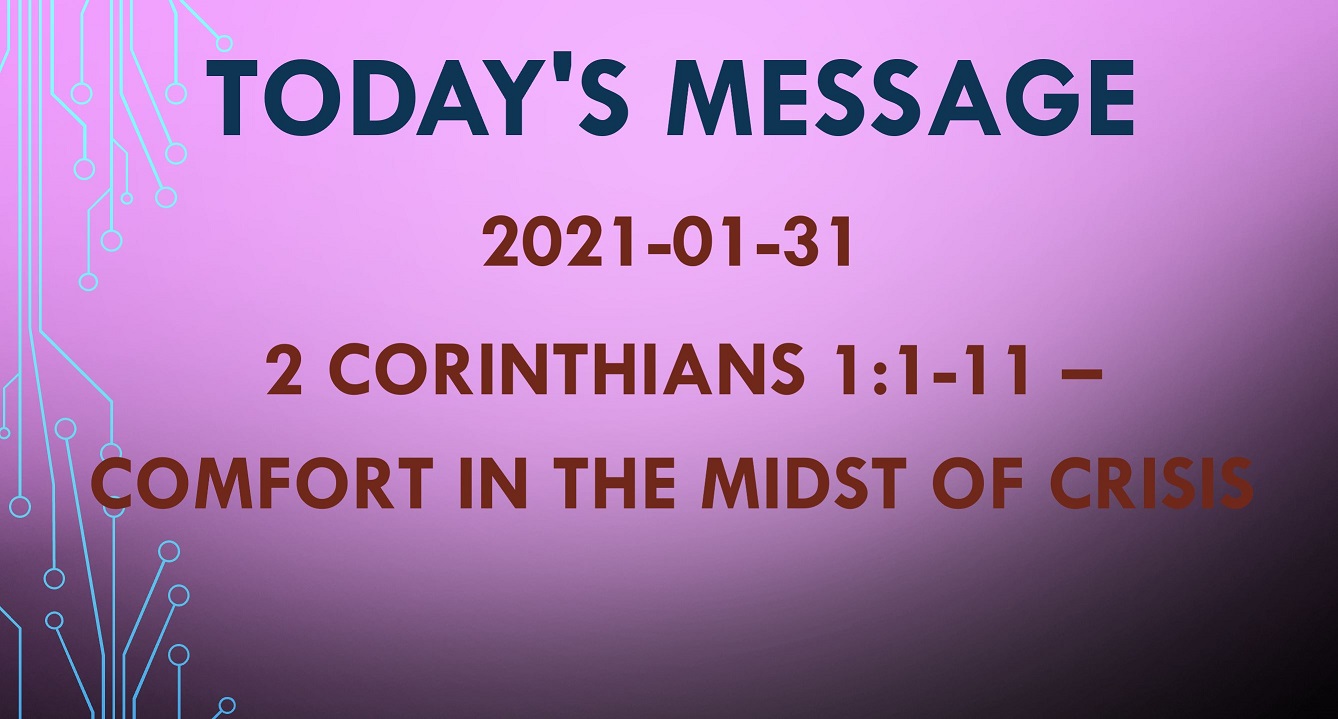 2021-01-31 – 2 Corinthians 1:1-11 – Comfort in the Midst of Crisis
2021-01-31 – 2 Corinthians 1:1-11 – Comfort in the Midst of Crisis
Good morning everyone. It is so nice to be able to spend some time with you all in fellowship with the Lord. Thank you and God bless you for being with us today.
Travel back in your minds with me at the turn of the nineteenth century, 1804 to be exact, where two men, commissioned by President Thomas Jefferson, found themselves on the journey of a lifetime. [SLIDE] Lewis and Clark may not have fully grasped how their search for a waterway across North America would fundamentally change and expand our nation… which up to this point where 2 of every 3 citizens were still living within 50 miles of the Atlantic Ocean.
Then one year after embarking on their journey from St. Louis, Lewis and Clark found themselves in what is now North Dakota. Rumors abounded about what they might find along the way; volcanoes, woolly mammoths, blue-eyed Indians, or even the lost tribes of Israel were all common beliefs. As they were now literally stepping off the map, their adventure thus began. You all know the rest of that story, how Lewis and Clark gained their place in our American history books. Likewise, we in this ministry here at First Baptist Church, Orion IL are also kind of stepping off the map in many ways. Despite all the challenges of Covid19 God has blessed our little church in many ways, and we have a lot ahead of us yet to look forward to. All I can say is Praise the Lord, Amen?
In our Bibles, the apostle Paul is another great adventurer that we have record of in scripture. Today we are going to get a small taste of Paul's missionary life as we step now into this letter-book of Second Corinthians.
Please turn now to 2 Corinthians 1:1, page 1023 in your pew Bibles, which is the Inspired, Infallible and Living Word of God.   Prayer..
1 Paul, an apostle of Christ Jesus by God's will, and Timothy our brother:
To the church of God at Corinth, with all the saints who are throughout Achaia.
2 Grace to you and peace from God our Father and the Lord Jesus Christ.
Right away we can see in the first verse, the text identifies the author as the apostle Paul, possibly along with Timothy. This epistle was very likely written between A.D. 55-57 while Paul was traveling in Macedonia. [MAP]
It was written approximately a year after he wrote 1 Corinthians, and a year before he wrote his letter to the Romans. You might know that this is actually the fourth letter Paul had written to the Corinthian church, in addition to what we have in 1 Corinthians.
The church in Corinth was actually started in AD 52 when Paul first visited there on his second missionary journey. He stayed with them for one and a half years, accomplishing much for the sake of the gospel. A record of that first visit can be found written about in Acts 18. This letter of Second Corinthians is the most biographical and least doctrinal of Paul's epistles. It tells us more about Paul as a person and as a minister than any of the others.
If you had been with us when we went through the previous book, you should know that the church at Corinth had previously been struggling with divisions and quarrels, as many of our churches do still today. But by the time of this writing, for a majority of the believers there, most of those problems had been solved.
Paul now starts out this letter with a standard but formal greeting. In that, Paul refers to his fellow Christians as "saints", and we too should feel comfortable using that title as well if we are so inclined. But in this context, the title "saint" doesn't infer that we are without sin, but instead that we are deemed worthy by the blood of Christ, and therefore sinless in regards to our qualifications to enter into heaven. You are saints if you have accepted Jesus as your Lord and Savior. God now has you in His grip, and He will never let you go. As written in John 10:27-28 Jesus said, "My sheep listen to My voice; I know them, and they follow Me. I give them eternal life, and they will never perish. No one can snatch them out of My hand". Isn't that an awesome verse? That understanding is what we call eternal security, and it should give the true Christian saint much peace.
Paul continues now at verse 3, where he wrote:
3 Blessed be the God and Father of our Lord Jesus Christ, the Father of mercies and the God of all comfort. 4 He comforts us in all our affliction, so that we may be able to comfort those who are in any kind of affliction through the comfort we ourselves receive from God. 5 For just as the sufferings of Christ overflow to us, so also through Christ our comfort overflows. [SLIDE]
6 If we are afflicted, it is for your comfort and salvation. If we are comforted, it is for your comfort, which produces in you patient endurance of the same sufferings that we suffer. 7 And our hope for you is firm, because we know that as you share in the sufferings, so you will also share in the comfort.
Paul starts right out by mentioning the disciple's afflictions and sufferings that they experienced while they were about spreading the Gospel. But he turns the table when he refers to Christ being the Father of mercies and the God of all comfort. In other words, despite his afflictions and sufferings, Paul's opening section here really comes to us in a very positive tone: "Blessed is God," – why? – "because He comforts me as I am suffering for the cause of Christ." In fact, Paul goes through all the first 11 verses, affirming the comfort, and compassion, and the mercy of God. Despite the many challenges, he knows he is blessed.
Paul is attempting to convey to the Corinthians believers (and us today), that while he was being attacked by satan and others, that God is comforting them at the same time. Paul is effectively now asking them, are you going to join their attack on me, or are you going to side with Father God who's comforting me?
Here and in the next verses, Paul will take his readers and us through a comfort paradigm, where he will show us the promise of comfort, the purpose of comfort, and the power of comfort, as we participate in that comfort. This is absolutely profound in meaning, and something we all could surely learn from.
But before Paul actually gets into expounding about the comfort of God in this letter, I want you to notice the titles of God that he is first exalting. He wrote, "Blessed be the God and Father of our Lord Jesus Christ, the Father of mercies and the God of all comfort." What marvelous titles for God they are. A little back-story on that, you should understand that if Paul had been a Jew living in the Old Testament time, he would have instead identified God as the "father of Abraham, Isaac, and Jacob". I have been reading through the Old Testament again this year, and in that you can see throughout the text, that as being God's primary name and title. But now, in the New Testament, God is most frequently identified as the "God and Father of our Lord Jesus Christ". We now have a direct line of communication to God because of Jesus. I love what it says in Hebrews 1:1-3: [SLIDE]
1 In the past God spoke to our ancestors through the prophets at many times and in various ways, 2 but in these last days he has spoken to us by his Son, whom he appointed heir of all things, and through whom also he made the universe. 3 The Son is the radiance of God's glory and the exact representation of his being, sustaining all things by his powerful word.
So The Great "I Am" now speaks to us in Christ the Son. That is precisely what Paul is intending to convey in these first verses. So, throughout the New Testament you will see the title "God the Father of our Lord Jesus Christ". But then here, Paul also adds two other titles for God, and they are both taken from the Old Testament. He says, "the Father of mercies and the God of all comfort." Paul could have chosen a myriad of titles for God, but he chose those two, because he wants to make the point that God is coming to him in his suffering and affliction. God isn't coming to chasten or discipline, but coming to his comfort. God is not tearing him down, God is picking him up.
And look at that phrase, "the Father of mercies." That reminds me of what David said in 2 Samuel 24, he wrote "I'm in great distress. Let us now fall into the hand of the Lord, for His mercies are great. But do not let me fall into the hand of man" God's mercies are truly great, aren't they?
At this point in Paul's missionary journeys, he has experienced many trials and plenty of heartbreak. His character was assaulted. His church was assaulted, to go along with all the physical pain as well. But in it all, God had come to him and made him brave, and made him bold, and made him courageous, and made him strong. God had encouraged him and fortified him. And that's why he starts this letter out and blesses God for that. Paul found his comfort and mercy despite all the challenges he faced. This next section conveys well some of those challenges:
8 We don't want you to be unaware, brothers and sisters, of our affliction that took place in Asia. We were completely overwhelmed—beyond our strength—so that we even despaired of life itself. 9 Indeed, we felt that we had received the sentence of death, so that we would not trust in ourselves but in God who raises the dead. [SLIDE] 10 He has delivered us from such a terrible death, and he will deliver us. We have put our hope in him that he will deliver us again 11 while you join in helping us by your prayers. Then many will give thanks on our behalf for the gift that came to us through the prayers of many.
In this text Paul is not complaining, but he is sharing his experiences with those he has invested in, with those he has loved and cared for and shared life with. That is what we all should be doing more readily in this family we call church. Paul is being real with them. He isn't attempting to paint a rosy picture that some try to foster. In doing so, Paul is giving them a gift of unpretentious humility. Giving them an opportunity to share in his struggle and to show how God has delivered them despite the hardships. He is sharing also, so that they will know that their prayers have been heard, and the God of Comfort and Mercy has had compassion on them, and that their praying for him does make a difference.
Intercessory prayer is a crucial part of the missionary effort of the saints. Paul wanted the faithful Corinthians to know he needed their prayers then and in the future as well. I firmly believe, and scripture backs me up, that many a plans are thwarted because they are not prayed about. The importance of prayer can not be over-emphasized. As Christ followers, we ought to take it seriously and know, as Paul points out in his story here, that God hears and responds to fervent but yet transparent and humble prayer.
A couple great prayer verses I have relied upon over the years is Psalm 118:6 "The Lord is on my side; I will not fear: what can man do unto me?" And James 5:16 says, "Confess your sins one to another, and pray for one another that you may be saved. For the effectual fervent prayer of a righteous man availeth much"
And the takeaway for us here today is, that we should choose to do the same. Give your trials, your pain and suffering to Christ. For He can surely bring you comfort, especially when things seem to be out of control.
Like Paul, and Like Lewis and Clark, in this church, we are intending to step out in faith a little more this coming year. In doing so we will have to take some smart risks even. And we may even challenge some of our creature comforts in order to make a positive Christian impact on the people of this town and beyond. And on this "road less traveled" we might encounter some landmines, boobytraps, turbulent waters and maybe even giants and head-hunters. But we will walk in faith, and in the understanding, like Paul conveyed so well in our passages today, that God, "the Father of mercies and the God of all comfort" is with us, therefore we have nothing to fear. Amen? [MAP]
This is our frontier, this is our mission place. Jesus gave us what is called The Great Commission. In that He commands us to go and make Disciples. The best way I have found to do that is by engaging with the people. Introduce yourselves to folks and find opportunities to love on your neighbors. We all have a segment of society or a crowd that God has placed in our paths. Weather it be at your homes, schools or workplaces. Start living on mission. Step-up and Step-out for the cause of Christ. Show others that you care enough, that you are concerned for their welfare, both here and in eternity. Are you willing to do that? That question is what God now presets to you. He won't force you, but He offers that opportunity and He desires that of you. But before we step into this new missional paradigm, let us stand together and blanket it all with prayer. /Prayer/
Now let us sing together, one verse of Amazing Grace.
Next week we will continue in this first chapter of Second Corinthians. I pray you find this journey through Paul's writings is comforting and informative for you as they are for me.
Thank you again for joining us today. May God be with you till we meet again.