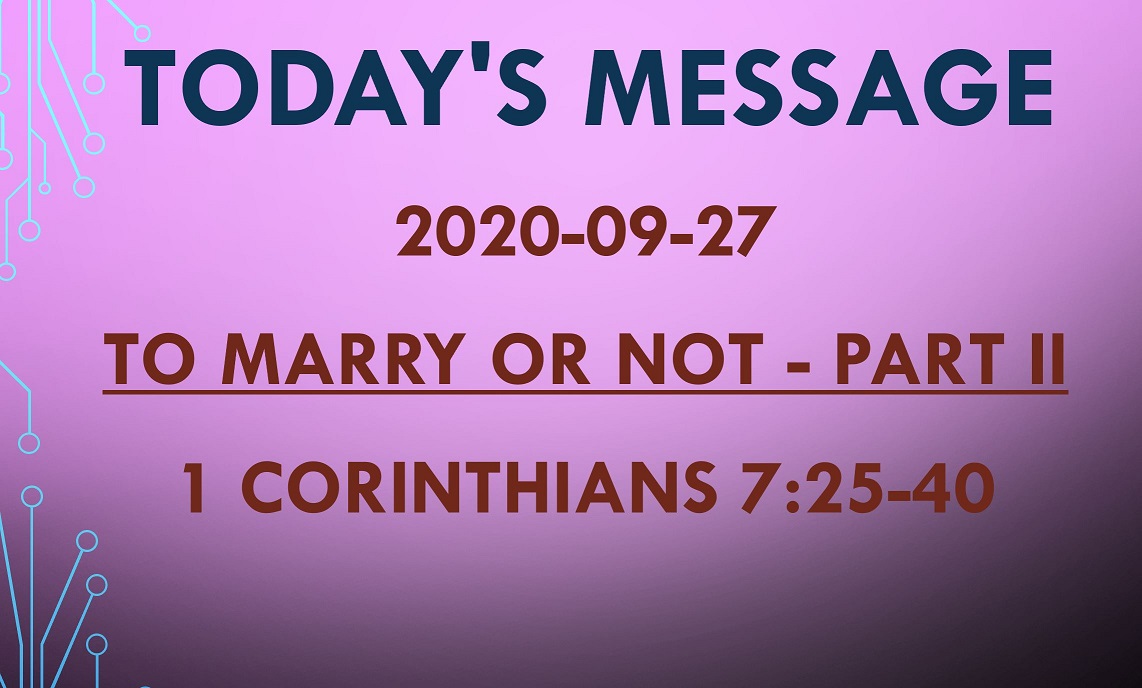 2020-09-27 – 1 Corinthians 7:25-40 – To Marry or Not – part 2
2020-09-27 – 1 Corinthians 7:25-40 – To Marry or Not – part 2
Good morning everyone. It is so nice to be able to spend some time with you all in fellowship with the Lord. Thank you and God bless you for being with us.
For the past few weeks we have been going over the subjects of Marriage and Relationships. And I commend you all as it is obvious to me that some of you are paying attention as I have had several follow-up discussions on the matter. That is wonderful. God's word says, "Be diligent to present yourself to God as one approved, a worker who doesn't need to be ashamed, correctly teaching the word of truth" (2 Tim 2:15). And that is our aim here at First Baptist Church Orion.
In our scripture text today, verse 35 of First Corinthians 7 says basically the same thing, we are to "promote what is proper so that you may be devoted to the Lord without distraction". If you get anything from this message today, please know that is our purpose and goal. To help each other know how to apply God's word to their everyday lives.
Please turn now to 1 Corinthians 7:25, page 1015 in your pew Bibles, which is the Inspired, Infallible and Living Word of God.   Prayer..
This is the second part of two part series called Married or Not, but if I were to subtitle this message it would be called "Undivided Devotion". Psalm 86:11 says, "Teach me your way, Lord, that I may rely on your faithfulness; give me an undivided heart, that I may fear your name". 2 Chronicles 16:9 says, "For the eyes of the Lord range throughout the earth to strengthen those whose hearts are fully committed to him." That is our focus today, that we strengthen our faith-muscle a little bit, that we become a little more resolute in our standing about what the Lord wants for us in regards to our relationships with one another.
Again, last week we focused primarily upon the married relationships, whereas today we will focus primarily upon the Unmarried and Widows. For clarity today, I will be reading from the New Living Translation. Starting at verse 25, Paul wrote:
25 Now regarding your question about the young women who are not yet married. I do not have a command from the Lord for them. But the Lord in his mercy has given me wisdom that can be trusted, and I will share it with you. 26 Because of the present crisis, I think it is best to remain as you are. 27 If you have a wife, do not seek to end the marriage. If you do not have a wife, do not seek to get married. 28 But if you do get married, it is not a sin. And if a young woman gets married, it is not a sin. However, those who get married at this time will have troubles, and I am trying to spare you those problems.
Again, Paul is addressing concerns that was conveyed to him in a previous letter about relationships for the new Christian believers in Corinth. As we discussed last week, when a couple gets married, the two become one. And that binding of a husband and wife together in marriage is intended to last for a lifetime or "till death do us part". It is a precious union that should not be taken for granted. Having said that, there were some who obviously were not married and they were concerned about their future. Paul says here in verse 26 "Because of the present crisis, I think it is best to remain as you are". That present crisis could be the fact that both the Jews and the Romans were starting to put pressure on the New Christian churches. Christians were being persecuted, and we know that just 10 years later the Roman government came down upon all the Christians and Jews with a fervor, and in AD 70 Jerusalem fell as a result. The Temple was burned and the whole Jewish state collapsed. That may have been what Paul was preparing them for. Another viewpoint though is that we know the rapture and the second-coming of Jesus is still in our forecast. Jesus said that nobody knows the hour but we all should be preparing ourselves for that inevitability. Until then we all need to be vigilant and prepared, on mission to do whatever we are called to do for the furtherance of God's kingdom, and to perhaps have the privilege of leading some to God's saving grace. Paul continues this thought at verse 29:
29 But let me say this, dear brothers and sisters: The time that remains is very short. So from now on, those with wives should not focus only on their marriage. 30 Those who weep or who rejoice or who buy things should not be absorbed by their weeping or their joy or their possessions. 31 Those who use the things of the world should not become attached to them. For this world as we know it will soon pass away. 32 I want you to be free from the concerns of this life. An unmarried man can spend his time doing the Lord's work and thinking how to please him. [SLIDE]
33 But a married man has to think about his earthly responsibilities and how to please his wife. 34 His interests are divided. In the same way, a woman who is no longer married or has never been married can be devoted to the Lord and holy in body and in spirit. But a married woman has to think about her earthly responsibilities and how to please her husband. 35 I am saying this for your benefit, not to place restrictions on you. I want you to do whatever will help you serve the Lord best, with as few distractions as possible.
I hope you can see here that Paul is suggesting that we all need to maintain our focus on God, His will and His purpose. Whether you are married or single the goal is the same: To serve God, live by the Great Commandment and carry out the Great Commission. That is our priority and purpose as Christ followers who recognize that this is not our home, that we are heaven bound and now we have the privilege to serve our Heavenly Father. To Love the Lord with all our heart, soul and mind and to love our neighbor as our self. And to go and make disciples of all nations, baptizing them in the name of the Father, Son, and Holy Spirit. Paul is telling them and telling us here today that we should set ourselves up for success in this regard. He wants them and us to be truly on fire for the Lord. People are dying, and I am not talking about just mortal death, but eternal death. And we need to take that seriously. We shouldn't get so caught up in the worldly things that we forget our main calling, Amen?
If you are married, wonderful but don't let your marriage efforts and attention trump God's will in this regard. You should endeavor to be a compliment for each other in becoming even more effective at serving the Lord. If you are single, then don't be in a rush to get married because God has an amazing journey planned for you. As Paul said, I will again repeat, "I want you to do whatever will help you serve the Lord best, with as few distractions as possible".
Now speaking of distractions, Paul has additional advice. At verse 36 he wrote:
36 But if a man thinks that he's treating his fiancée improperly and will inevitably give in to his passion, let him marry her as he wishes. It is not a sin. 37 But if he has decided firmly not to marry and there is no urgency and he can control his passion, he does well not to marry. 38 So the person who marries his fiancée does well, and the person who doesn't marry does even better.
39 A wife is bound to her husband as long as he lives. If her husband dies, she is free to marry anyone she wishes, but only if he loves the Lord. 40 But in my opinion it would be better for her to stay single, and I think I am giving you counsel from God's Spirit when I say this.
God loves you, and He wants only the best for you. For the single people, I suggest that you can find "true peace and joy in serving the Lord with gladness" as King David wrote in Psalm 100. And as Moses penned in Deuteronomy 10:12 you should endeavor to be "walking in all His ways, to love Him, to serve the LORD your God with all your heart and with all your soul". And to the married the same applies to you "so that you and your children and grandchildren may fear the LORD your God all the days of your lives". God wants us to find our purpose and our joy in Him first before anything or anyone else.
These chapter seven verses we read last week and today were written to the Corinthian believers some of 2,000 years ago by somebody who cared deeply for their eternal security and welfare. But I could just imagine Paul writing the same kind of letter to our church family here in Orion, IL, USA. It would probably read something like this: "To my faithful children in Christ, because of the crazy situation in our world today, I have several bits of advice for you to consider. First, as a Christian you must remember that your body is also the temple of the Holy Spirit that resides in your hearts, so please don't take that amazing gift for granted, keep yourself holy. Restrain yourself from doing anything that might compromise your relationship with God. Don't be in a rush to fall into unhealthy relationships, take the time to grow up in the Lord first. Second, if you choose to marry, make sure you marry the right person, someone with common interests, common goals, common values, and a common faith. Third, before you marry, be sure you first learn what God's design for marriage is intended to be. Instead of using the world's popular notion of "romantic love and lust", discover all the richness of God's ideal design for marriage. Fourth, if you are married, work hard to make it a healthy marriage relationship, helping each other fulfill God's purpose in and through your marriage. As you have received much grace and mercy, let that same grace and mercy abound in your relationship. Finally, draw from all the resources within Christ and His Bride the church for strengthening your marriage for the long haul ahead. Whether married or single, always put God and His calling on your life first, and in that you can serve Him with much joy and purpose. God's desire for you is that you remain with your spouse for the rest of your mortal lives. Sacrifice for each other and hold each other up until that day that "death do you part".
Again, what we read these past few weeks is a caring letter from Paul to his spiritual children there in Corinth. It is both heartfelt and informative. It also sets a great example of how maybe we should be advising our children and others going forward, "To promote what is proper so that you may be devoted to the Lord without distraction". If you get anything from this message, that is our purpose and goal.
Paul urges all believers not to regard sex, marriage, home, or financial security as the ultimate goals of life. Instead he suggests, to make the most of our time on earth before Christ's return, that every Christian should have a sense of urgency about telling the Good News to others. There's not much time – Life is short. As much as possible we should live our lives unhindered by the burdens of the world, things that might keep us from doing God's work and saving eternal souls by leading them to the knowledge of His saving grace.
Having said that, I will ask again, have you accepted Christ's offer of salvation yet? Many times throughout the Bible it says that "God desires everyone to be saved and to come to the knowledge of the truth. For there is one God, and there is one mediator between God and men, the man Christ Jesus, who gave Himself as a ransom for all" (1 Timothy 2:4-5). And because of that we have can have the privilege of joining Jesus in heaven for all of eternity. That is the Good News. All your sins can be forgiven. That is the Good News indeed. So no matter where you are, no matter what you have done, God offers that Good News to you today.
Would you please rise as we prepare for our closing hymn.
Let us now close with prayer
"A FRIENDLY CHURCH IN A FRIENDLY TOWN"