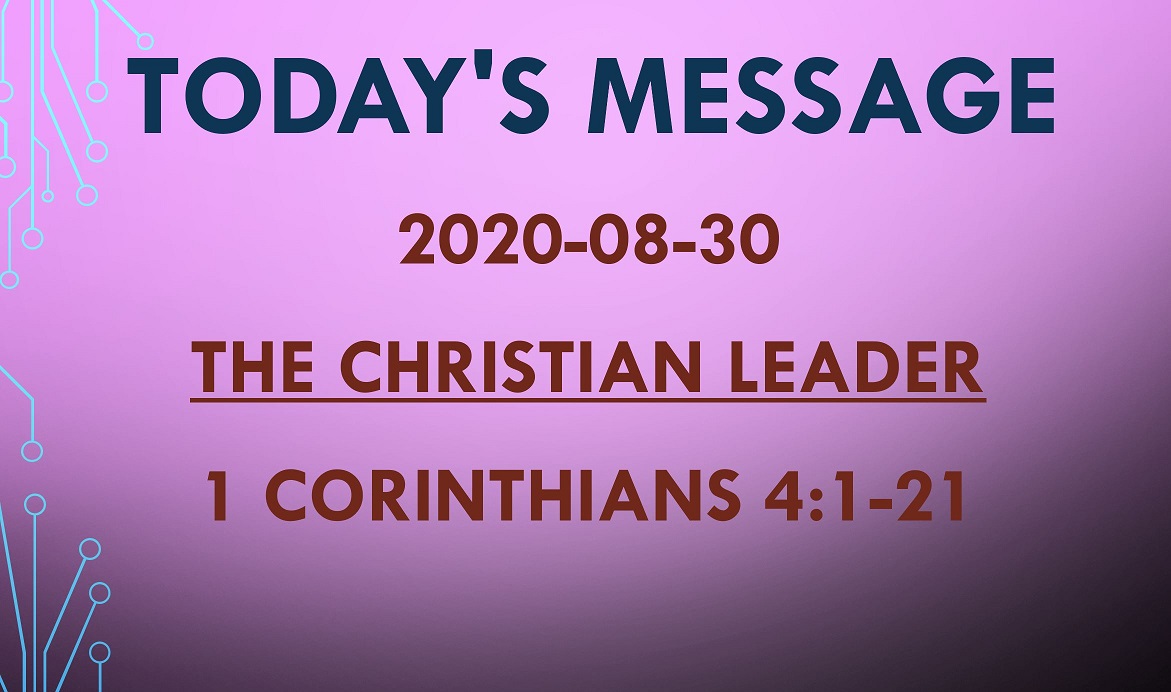 2020-08-30 – 1 Corinthians 4:1-21 – The Christian Leader
2020-08-30 – 1 Corinthians 4:1-21 – The Christian Leader  (Pastor Training)
Good morning everyone. It is so nice to be able to spend some time with you all in fellowship with the Lord. Thank you and God bless you for being with us.
Question: When is the last time you hand-wrote a long letter to somebody?
Sadly, these days we have been trained up to limit our thoughts to 140 characters or less. Many students today don't even know how to write or read cursive writing anymore. Many schools now don't even teach cursive writing, or it is maybe an elective. Even myself, when I write a letter, I mostly now write in print form. Our world is changing so quickly, and the mediums and technologies we employ to communicate with each other are ever changing it seems.
I picked up an old book the other day and it is written in German. Now I speak and read a little German, however when I opened up the text I see it was actually written in a calligraphy style. I remember practicing calligraphy in elementary school, anyone here remember that? I am afraid it is a lost art now for most. The word calligraphy comes from two Greek words stuck together, kallos, meaning "beauty," and graphein, meaning "to write" — literally "beautiful writing." In the days before printing was invented, most all books and documents were written by hand using calligraphy, the most famous examples being the early bibles. I have a photo of a piece of the Dead Sea Scrolls which included many Bible Fragments. You can see the pain-staking detail in this writing. In that regard, can you imagine Paul writing this long 1 Corinthians letter back in AD 54?
Please turn now to 1 Corinthians 4:1, page 1013 in your pew Bibles, which is the Inspired, Infallible and Living Word of God.   Prayer..
Last week we discussed the previous chapter 3 where Paul was admonishing the Corinth believers as being immature in their faith. He called them Carnal in that they were still thinking and acting as non-believers. They had not yet matured in their faith in Christ as they should have. I have said frequently that there are three stages of Christian maturity. The "Me" stage, where everything is about me; the "We" stage, where everything is about us; and finally the "Them" stage, where Christians understand that they are servants of God, carrying out the Great Commission. These Corinthian believers hadn't grown-up out of the Me stage yet. And that is what Paul now addresses in this 4th chapter, but more specifically the role of The Christian Leader. Starting at verse 1, he wrote:
1 A person should think of us in this way: as servants of Christ and managers of the mysteries of God. 2 In this regard, it is required that managers be found faithful. 3 It is of little importance to me that I should be judged by you or by any human court. In fact, I don't even judge myself. 4 For I am not conscious of anything against myself, but I am not justified by this. It is the Lord who judges me. 5 So don't judge anything prematurely before the Lord comes, who will both bring to light what is hidden in darkness and reveal the intentions of the hearts. And then praise will come to each one from God.
The Corinthians tended to look down on Paul and did not respect his authority. In carefully chosen words, Paul will show the Corinthians how to have a proper regard – not too exalted and not too low – of himself and the other apostles.
He tells them to "consider us, as servants of Christ" There are several different words in the language of the New Testament to describe a servant. Here, Paul uses the word "hyperetas," which describes a subordinate servant. The word hyperetas literally means "under-rower" in the sense that someone is a rower on a big ship. Although it is not the most insignificant word given for a servant, it certainly isn't a prestigious position either. However, we as Under-rowers choose to serve to Jesus Christ who is our Master-Pilot.
Paul also refers to himself and the Apostles as managers or stewards in addition to servants. A steward is the manager of a household. According to one author, "The steward was the master's deputy in regulating the concerns of the family, providing food for the household, seeing it served out at proper times and seasons, and in proper quantities. He received all the cash, expended what was necessary for the support of the family, and kept exact accounts, for which he was obliged at certain times to lay before the master" (Clarke). So in regards to our church family, a steward is one who helps lead the church and keeps it afloat.
Paul is giving us a lesson today on how to be a good disciple and leader in Christ, and in that role we should expect to be judged by everyone. It is human nature to judge the value of a person's character, especially that of our leaders. Everyone knows the verse "do not judge". The actual passage comes from Matthew 7. It reads, "Do not judge, or you too will be judged. For in the same way you judge others, you will be judged, and with the measure you use, it will be measured to you. "Why do you look at the speck of sawdust in your brother's eye and pay no attention to the plank in your own eye?" People will judge, we should expect that, however a Christian's judgement should be wrapped in much humility, grace, mercy and forgiveness, especially knowing that the ultimate judge, is God Himself. He is the person we should be attempting to please, not man. And when you have that right frame of mind, then others should naturally appreciate your leadership.
This next chapter deals with setting a good example. Verse 6 reads:
6 Now, brothers and sisters, I have applied these things to myself and Apollos for your benefit, so that you may learn from us the meaning of the saying: "Nothing beyond what is written." The purpose is that none of you will be arrogant, favoring one person over another. 7 For who makes you so superior? What do you have that you didn't receive?  If, in fact, you did receive it, why do you boast as if you hadn't received it? 8 You are already full! You are already rich! You have begun to reign as kings without us—and I wish you did reign, so that we could also reign with you! 
9 For I think God has displayed us, the apostles, in last place, like men condemned to die: We have become a spectacle to the world, both to angels and to people. 10 We are fools for Christ, but you are wise in Christ! We are weak, but you are strong! You are distinguished, but we are dishonored! 11 Up to the present hour we are both hungry and thirsty; we are poorly clothed, roughly treated, homeless; 12 we labor, working with our own hands. When we are reviled, we bless; when we are persecuted, we endure it; 13 when we are slandered, we respond graciously. Even now, we are like the scum of the earth, like everyone's garbage.
Wow, Paul is attempting to combat the sin of arrogance. We don't use that word too often these days but it means making claims to being superior in some way, puffed-up or as we used to say in high-school stuck-up. Sadly arrogance is still alive and well in our world today. In India they even have what is called the Caste system, which is a social structure that divides different groups into ranked categories. Members of "higher" castes have a greater social status than individuals of a "lower" caste. At birth, every child inherits his or her ancestor's caste, which determines their social status and assigns them "spiritual purity". This inherited status can determine where you live, what you eat, your job, who you can marry, and even where you can be buried or cremated when you die.
Please know that is not God's will for us. We are all equal in God's economy. Paul wrote in Galatians 3:28 "There is neither Jew nor Gentile, neither slave nor free, nor is there male and female, for you are all one in Christ Jesus". I pray you believe that, I pray you live that. And as Christian Leaders, like Paul we should be advocates of that freedom, even as we are persecuted for our faith, Amen?
This last section is entitled Paul's Fatherly Care. Verse 14 reads:
14 I'm not writing this to shame you, but to warn you as my dear children. 15 For you may have countless instructors in Christ, but you don't have many fathers. For I became your father in Christ Jesus through the gospel. 16 Therefore I urge you to imitate me. 17 This is why I have sent Timothy to you. He is my dearly loved and faithful child in the Lord. He will remind you about my ways in Christ Jesus, just as I teach everywhere in every church.
18 Now some are arrogant, as though I were not coming to you. 19 But I will come to you soon if the Lord wills, and I will find out not the talk, but the power of those who are arrogant. 20 For the kingdom of God is not a matter of talk but of power. 21 What do you want? Should I come to you with a rod,   or in love and a spirit of gentleness?
Again, Paul is addressing the problem of Arrogance and Pride for these young Corinthian believers. We too should take account of ourselves in this regard. If we are to mature in our faith, then we must be advocates of eliminating such prideful practices. None of us are beyond being tempted in that manner. What's that old saying "Pride goeth before the fall", that is actually a quote that comes from Proverbs 16, written by the wise King Solomon. It says, "Pride goes before destruction, a haughty spirit before a fall".
I read about four people that were flying in a small plane once when the engines died. There was the pilot, a professor, a preacher and a hiker. The pilot said, "There are only three parachutes. Since this is my plane, I'm taking one of them." He put it on and jumped out. The professor then said, "I'm brilliant and the world needs me, so I'm taking a parachute," and he jumped out. Then the pastor told the hiker, "I don't want to be selfish, so you take the last parachute." The hiker replied, "There are still two left, so we can each have one. You see the professor jumped out with my backpack instead of the parachute!"
"Pride goes before destruction, a haughty spirit before a fall", Indeed.
We in this church are blessed with a very diverse and wonderful family. There is no room for Pride or Arrogance here. So please take what Paul presents in these verses seriously. Paul was attempting to get the Corinthian believers to recognize, there is nothing that anyone has gained, achieved or acquired that was not given by God. We have no reason to boast or think that we are better than any other. We must fight satan's evil schemes to pit one against the other. Like Paul, we need to choose to submit to Christ and choose to submit to each other. Set a good example as a true Christian Leader. Let others see Christ in your character. Like Jesus, who put everyone's needs above that of His own personal comfort. He laid it all on the line so that we might be forgiven; He gave up His parachute and paid the price for our salvation. If you truly appreciate His sacrifice, then choose to become that "Under Rower" Christian that He most assuredly desires for you to be. Are you with me in this?
I hope you are appreciating Paul's long hand-written letter to the Corinthians. There is much we can learn from it if we just slow-down and consider. God loves you so much that He authored this Love Letter we call the Bible. We need to read it, love it, embrace it even. For in it is God's Inspired, Infallible and Living Word. Would you please stand with me now, as we close with an invitation..
We are going to sing one verse of Amazing Grace, if you would like to accept God's calling on your life today, then I ask that you consider coming forward as we sing this song.
"A FRIENDLY CHURCH IN A FRIENDLY TOWN"