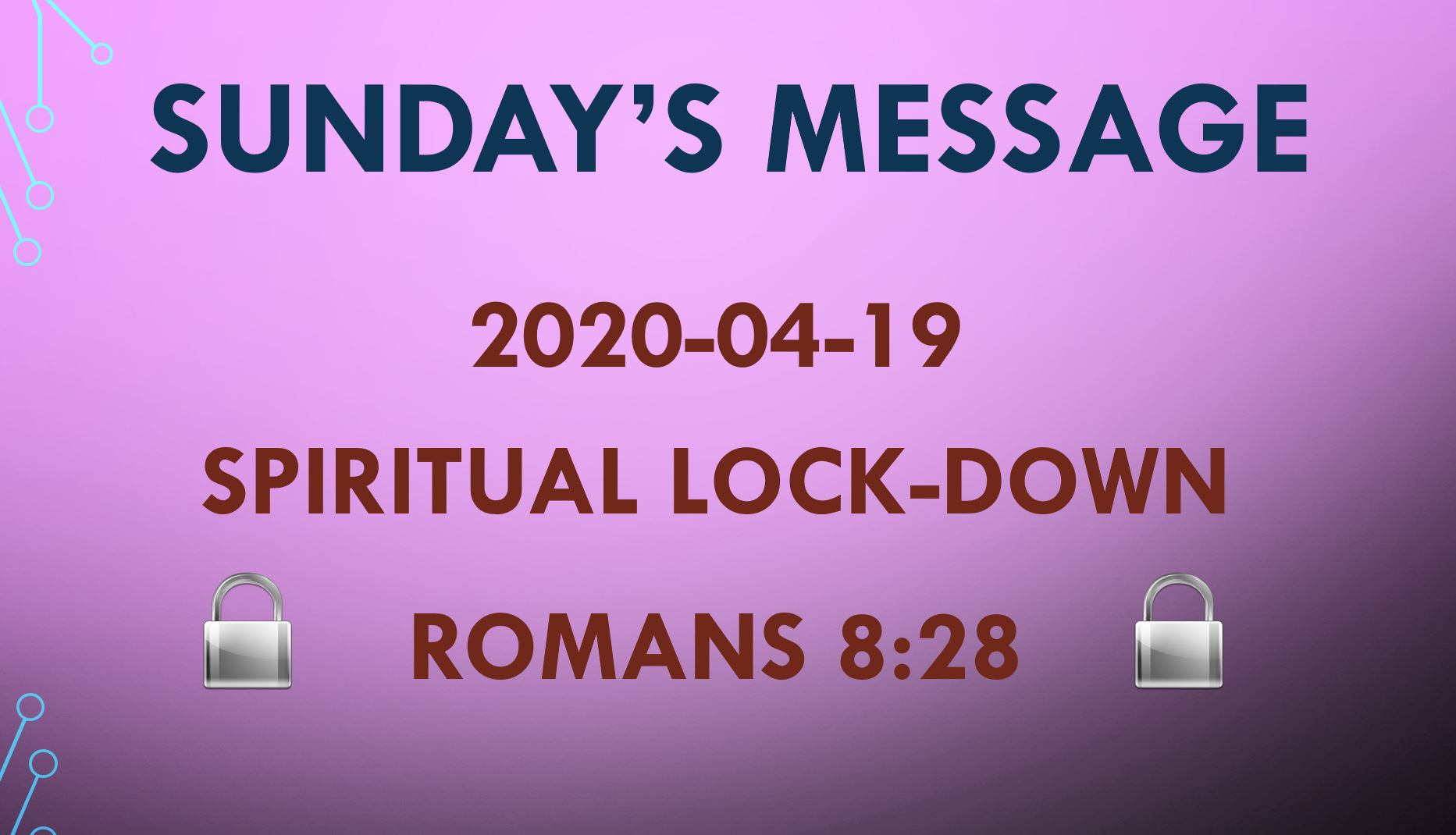 2020-04-19 Romans 8:28 – Spiritual Lock-down
Bible Text: Romans 8:28 | Preacher: Pastor Jerry Higdon | Series: Special | 2020-04-19 Romans 8:28 – Spiritual Lock-down
Click Here to View on Facebook
Good morning/evening and Namaskaar to our friends in India from First Baptist Church, Orion, IL. My name is Pastor Jerry Higdon.
I was blessed to be in the city of Nagpur several years ago and I so enjoyed eating the delicious food and meeting many wonderful people. Dhanyavaad my friends for allowing me to speak to you. I will bring a message to you today that although we might be isolated or physically locked-down, There Can Not Be Spiritual Lock-down. There Can Not Be Spiritual Lock-down.
Today I am rejoicing in my heart for the opportunity to open-up the Word of God together with you, to better understand what the Lord has revealed to us through in His amazing and Holy Word. As I look back over my years in ministry, basically we have been going through the Bible book by book, chapter by chapter, verse by verse. And oh what a joy it has been for me to do that with you. But occasionally through the years, we have also had some very important times when we find it necessary to address certain topics that we face. Things that so dominate the society that everybody becomes aware of them.
Now here we are in the year 2020 and our world is facing something that has circled the globe, the coronavirus epidemic. It has created fear, confusion, doubt, questions everywhere, and we haven't seen the end of it yet. We don't know the final outcome of this pandemic, not just the physical outcome of the illness itself, but also impacts to the security and economic standpoints as well. And even though we believe most of people who have received this virus will recover from it, there is still mounting fear from all that's happening around the world that is changing people's lives.
I am sure you will agree, the world surely can be a difficult place to live in sometimes. Isaiah 8:22 says, "Look to the earth, and behold, distress and darkness, and the gloom of anguish." We certainly understand that. Jesus also said himself in John 16:33, "In the world you will have tribulation, you'll have trouble."
The big question that many are asking right now is "Why?" Why are we having to go through this most difficult of time and circumstance? To that I will suggest that God wants you to know for certain, that He works all things according to His will. That is actually a direct quote from the apostle Paul, written in Ephesians 1:11. Another most applicable quote from Paul is written in Romans 8:28, that, "He works all things together for good to those that love God and are called according to His purpose." So God does everything according to His will in the universe, and ultimately it is for the good for those that choose to follow Him
Pastor John Piper was looking at that same verse from Romans 8:28, "All things work together for good," and he wrote this: "All things includes the fall of sparrows, the rolling of dice, the slaughter of His people, the decisions of kings, the failing of sight, the sickness of children, the loss and gain of money, the suffering of saints…, the persecution of Christians…, the giving of life and the taking in death, and the crucifixion of His Son." So "All Things", include what we think of as both good and the bad.
So what are we supposed to do in response to that? God doesn't tell us why He does everything; for it's far too complex for us to comprehend. He doesn't tell us the future, because we can't hardly even handle our present troubles let alone the future. God wants us to simply to trust in Him. And that is what faith is all about isn't it? Our Faith in God fills the gaps between what we know and what we don't know. In this wonderful Holy Bible, God is over and over proclaiming this. He says effectively: "You're Mine. I love you. I sent My Son to die for you. You are My child. Trust Me." Are you willing to trust God even in this situation we now find ourselves in?
Let me suggest to you today that God is in charge of everything. He's not revealing everything yet to us, but He is certainly doing something, and He's teaching us to trust Him. As a people, we generally don't learn a lot when everything's going well. When everything is going well we don't slow down to listen very well do we. Most times we only start listening when we're at the end of our ability to control something, when life gets away from us, when forces beyond us have taken over. Maybe only then we become a little more eager to listen to what He is trying to say. And what would God say to us? What lessons does He want us to learn? I'm going to give you some of those today, taken from a number of passages of Scripture.
So how are you doing in this time of virus chaos? How's your faith in this time of trial? I can tell you for me it has caused me to rethink a lot of my priorities. Not only personally but also as a pastor of a small church. I have sought out the council of many pastors in an attempt to gleam some wisdom from them and from scripture, as to how we could best confront and deal with these trials.
[SLIDE] In 1 Peter 1:6, the apostle Peter wrote to the church while they were going through trials. He said, "In this you greatly rejoice, even though now for a little while, if necessary, you've been distressed by various trials, so that the proof of your faith, being more precious than gold which is perishable, even though tested by fire, may be found to result in praise and glory and honor at the revelation of Jesus Christ."
Peter is teaching them and us that we ought to be grateful that we are going through a trial because that trial is going to prove the validity and strength of our faith. This is the reason that as far as believers are concerned, God allows these trials for us, to test the strength of our faith. So we can know that faith within us actually at work. If it weren't for the trials, we might never have the opportunity to truly exercise our faith.
Secondly, I would say God also uses these trials sometimes to humble us. I would suggest to you that anyone going through a test of faith, legitimately and honestly is going to say to themselves, "I need more faith", and in that they are going to be humbled. Truly the most godly and spiritual person in the midst of the trial will say, ""Lord, I believe; help my unbelief!", "strengthen my faith." God can surely use a humble servant leader. The question is, are you willing to be that person, a humble servant leader?
In 2 Corinthians chapter 12, there's a text that speaks so directly to this. Paul is suffering a thorn in the flesh. This thorn in the flesh is described as a messenger of Satan. In verse 7, he says, "there was given me a thorn in the flesh, a messenger of Satan to torment me – to keep me from exalting myself!" God gave the thorn to Paul to keep him humble. He said, "Even I in the midst of this trial, recognize that God is humbling me. I implored the Lord three times that this might stop. And He has said to me, 'My grace is sufficient for you, for power is perfected in weakness.' Most gladly, therefore, I will rather boast about my weaknesses, so that the power of Christ may dwell in me. Therefore I am well content with weaknesses, with insults, with distresses, with persecutions, with difficulties, for Christ's sake; for when I'm weak, then I'm strong."
So the Lord was allowing it to happen to Paul to humble him because Paul even knew that he needed to be humbled. Like Paul, the Lord puts us through trials as well, to test the strength of our faith, and in the testing, show us that our faith is far less than it should be, and therefore, to humble us to the point where we would say with Paul, "I am well-content with [my] weaknesses"
So the Lord sometimes brings these thorns, these trials into our lives to test the strength of our faith. And in the testing, inevitably our self-pride, self-confidence, self-trust is exposed, and then we are humbled. I know sometimes I need to be humbled, so that God will be magnified and I will be less and less.
In this most challenging time that we are in now, I think there's also another principle purpose in all this. I think the Lord is weaning us from earthly things. In Colossians 3:2, Paul says, "Set your affections on things above and not on things on the earth." We know that, we believe that, but that's very hard to do, because we are so engulfed with the things of the earth. Today we're not living in a culture that would be like the biblical times, where the things of the earth were pretty minimalistic. They generally didn't have big houses and expensive tech toys like cell phones that steals the day away. Life was instead meager. You had the clothes on your back and maybe a change or two. You had food for only a few days and then you had to find a way to get more food. You maybe even had to grow that food, and process it yourself. But even in that world, it was easy to get caught up with the earthly things. Again Paul says, "Set your mind on the things above, not on things on the earth. For you have died [to self], your life is hidden now with Christ in God."
What are those earthly things you need to turn from? Things, thoughts or actions that keep you from having true fellowship with God. Continuing in Colossians 3, the apostle Paul says, "Immorality, impurity, passion, evil desire, greed. You once walked in those things; put them away, along with anger, wrath, malice, slander, abusive speech. Don't lie. Put on the new self, renewed in a true knowledge according to the image of One who created him. Be marked by compassion, kindness, humility, gentleness, patience; bearing with one another, forgiving each other, whoever has a complaint against anyone; just as the Lord forgave you, so also should you. Beyond all these things put on love, which is the perfect bond of unity. Let the peace of Christ rule in your heart, to which indeed you were called into one body; and be thankful. And then let the word of Christ richly dwell within you, in all wisdom teaching and admonishing one another with psalms and hymns and spiritual songs, singing with thankfulness in your heart to God. Whatever you do in word or deed, do all in the name of the Lord Jesus, giving thanks through Him to God the Father." That's what a godly life is supposed to look like. That's what it means to set your mind on things above and not on things on the earth. Amen?
As we are now going through this trial, one of the benefits is the fact there's a certain sense in which the reset button has been set in all of our lives. We don't know what the next chapter's going to look like yet. But we do know this, that in some ways it's for our good, it's according to the will of God, and it will inevitably bring Him glory. So like Paul and Peter, we should approach this challenge now with joy and peace and love and purity and holiness and virtue and kindness. In other words, we should all start exhibiting again the fruits of the Holy Spirit that has been planted in our hearts as Christ followers. Are you with me in this?
[SLIDE] I love what Paul also wrote in 2 Corinthians 4:16, "Therefore we do not lose heart, but though our outer man is decaying, yet our inner man is being renewed day by day." We're not only focused on those things that are heavenly, but we're focused in the midst of our trouble on the renewal of the inner man. In other words, we've been weaned from the world, we're now walking more in the Spirit and we're in touch with what the Lord is doing in our hearts.
Verse 17 continues, "For [this] momentary, light affliction is producing for us an eternal weight of glory far beyond all comparison" – in other words, how you respond to this trial we face is directly related to your eternal reward – "while we look" – he says in verse 18 – "not at the things which are seen, but at the things which are not seen; for the things which are seen are temporal, but the things which are not seen are eternal."
He goes on to say, "We're just in an earthly tent. And if this is torn down, we have a building from God, a house not made with hands, eternal in the heavens. For indeed in this house we groan, longing to be clothed with our dwelling from heaven." When things begin to be stripped away from you in this world, your focus shifts to the hope of our eternal glory, when we will be changed into the very image of Jesus Christ in heaven for all eternity.
God designs trials and trouble to reveal what we really love, to reveal Who we really love. This is the kind of situation that will reveal that. God will receive glory from this current stress we now find ourselves in. We don't know exactly all the ways He will, but He does indeed.
We don't worry because we know who our Father is, we know who our family is, and we know what our future is. We don't worry. But we should strive to become learners through this kind of situation. We have the responsibility to learn the lessons that the Lord is teaching us. You can take a look at your own life and examine where you are in regard to the things we've talked about. But if you look at them rightly, you see this not as a threat, but as an incredibly wonderful, promising opportunity to grow in grace and in the knowledge of Christ and become more like the Savior, more faithful to the Lord, more obedient, more useful to Him, more joyful, more the source of all that is good and godly than you were without this trial. We ought to be the shining lights in the midst of all of this darkness. And when it's done, if you have been a faithful learner or disciple, all these lessons will be for your good and His glory.
Again, this message to you today is that of hope. Although we might be isolated or physically locked-down, for the Christian believer There Can Not Be Spiritual Lock-down, Amen?
Let us Pray now together, would you please bow your heads with me: